This is generally the largest risk involved with investing in a cryptocurrency fund: clients need to put their trust into those behind it, which is why it is important to do research. The more information the managers are willing to share about who they are, how they are managing and what their track record is can help determine if they are right for an investor. That's why, for many, partnering with a reputable firm is an essential part of the trust that they will see a return on their investment. Some of the biggest names in cryptocurrency funds include the Digital Currency Group, Galaxy Digital and Pantera Capital, among many others. All focus specifically on cryptocurrencies and other digital assets. Of course, these will still generally require large, upfront investments from qualified individuals. However, retail investors who want to be in on this type of action might want to look at projects like Tokenbox. In addition to acting as a general wallet and exchange, Tokenbox allows users to "tokenize" their portfolios as well as invest in the tokens attached to the portfolios of others. This acts as a streamlined way to either begin a new cryptocurrency fund or get involved in an existing one.
Open source tools can be a key first step on the DevOps path to achieving software development's nirvana state, but only when teams bring automation and speed across the various steps of the process. That's why professionals refer to a DevOps "toolchain" (the products you use) that supports the software "pipeline" (the process of delivering software) — and visually depict these elements as unfolding in a horizontal fashion. End-to-end tool coverage horizontally across an organization is the key to highly functional, mature DevOps practices. However, that's easier said than done — and has traditionally been both expensive and difficult for businesses to do. The good news today is that there are many more open-source options across every sequential step of the software delivery lifecycle (SDLC). From managing source code, to storing build artifacts, release monitoring and finally to deployment — there's an OSS solution for that if you know where to look. ... Perhaps less obvious is the notion that DevOps teams must think about tool coverage and instrumentation for a vertical stack, which at a basic level breaks down into code, infrastructure, and data layers.
There are two 5Gs, and that is by design. The architecture that purges the network of all radio and communications components and methods from the past, while maintaining compatibility with older devices (user equipment, or UE) is called 5G Stand-Alone (5G SA). Release 16 of the 3GPP engineers' architecture for global wireless communications, is being formally ratified and finalized on July 3. It was delayed on account of the pandemic, but only by a handful of months. 3GPP R16 is the second round of 5G technologies, in a series that has at least one more round devoted to 5G, most likely two. The other 5G architecture is the one in use today in the United States: 5G Non-Stand Alone (5G NSA). It relies on the underlying foundation and existing base station structure of 4G LTE. By building 5G services and service levels literally into crowns that reside above or below the 4G buildouts (a "crown castle," which also happens to be the name of one of North America's largest owners of telco tower real estate), 4G has been giving 5G a leg up. Once it's found its footing, the idea is that 4G can begin winding down.
RPA is best for activities that require multiple repetitions of the same sequence and could be conducted in parallel to create greater efficiencies. For example, B2B companies often have to check several portals or suppliers in order to buy inventory at the best rate. An employee would have to work through all the steps in each portal sequentially. But with RPA, the software robots act as "digital colleagues". They monitor product prices and regularly inform employees about changes, retrieving figures from all portals simultaneously. Unlike BPM platforms, RPA isn't capable of managing processes end-to-end over a longer period of time. An example: A customer wants to order something, complain or obtain information. Accordingly, a process is triggered in the company. Sometimes it can take up to 14 days until the request is completed. Although the digital colleague can support the employee by retrieving data on the customer, decisions are still made by the individual. That's why a BPM solution is the much better choice, because the system can integrate employees into the process depending on availability and skills.

The study revealed universal approval of flexible working, across business structures and geographies, across generations and parental status. This, said Adecco, was a clear affirmation that the world is ready for hybrid working. Almost 80% of respondents thought it important that their company implements more flexibility in how and where staff can work. And it was not only employees who saw the benefits of this. Just over three-quarters (77%) of C-level/executive managers thought business will generally benefit from allowing increased flexibility around office and remote working. Also, 79% of C-level/executive management said they thought employees would benefit personally from having increased flexibility around office and remote working. Four-fifth of workers said it was important to be able to maintain a good work/life balance after the pandemic, and 50% said their work/life balance had improved during the lockdown. However, UK employees worry that their employer's expectation of what hybrid working should look like after the pandemic will not match their own.
The CryptoFund is aimed at supplementing this initiative to help companies specifically address the challenges created by the Covid-19 pandemic, which has brought to a head the problems that UNICEF's funds are seeking to tackle, such as food supply and education. Investees have sought to mitigate some of the damaging effects of the pandemic on children through collaboration with governments and other local organisations in tracking delivery of food, offering remote learning and tending to other problems caused by lockdown and isolation. Among the companies receiving 125 ether are StaTwig from India which is piloting a blockchain-based app designed to track the delivery of rice to impoverished communities and Utopic from Chile which aims to help improve children's literacy from their homes using a WebVR-powered learning game. "We're making investments into emerging technologies across data science, virtual reality and blockchain," says Lamazzo, "but we're also looking at the modality of the funding with the startups and trying to understand its benefits and drawbacks, so we're going through this learning process together."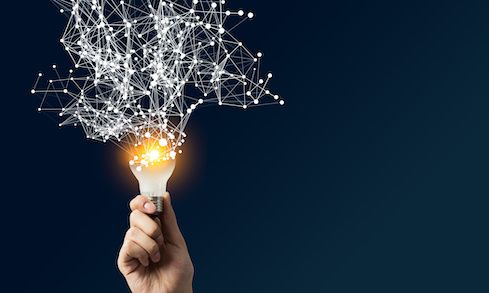 Disruption is nothing new for technology leaders. In Gartner's survey of IT leaders, conducted in early 2020 before the coronavirus pandemic struck, 90% said they had faced a "turn" or disruption in the last 4 years, and 100% said they face ongoing disruption and uncertainty. The current crisis may just be the biggest test of the resiliency they have developed in response to those challenges. "We are hearing from a lot of clients about innovation budgets being slashed, but it's really important not to throw innovation out the window," said Gartner senior principal analyst Samantha Searle, one of the report's authors, who spoke to InformationWeek. "Innovation techniques are well-suited to reducing uncertainty. This is critical in a crisis." The impact of the crisis on your technology budget is likely dependent on your industry, Searle said. For instance, technology and financial companies tend to be farther ahead of other companies when it comes to response to the crisis and consideration of investments for the future. Other businesses, such as retail and hospitality, just now may be considering how to reopen.
One of the things I still hear a lot from IT leaders, from small companies to large corporations, is that shadow IT is a big issue that causes them headaches. If you are not familiar with the term, shadow IT is a description of when departments go outside of an IT department to obtain products or services traditionally controlled by a centralized IT group, such as obtaining software-as-a-service or obtaining devices. IT leaders bemoan the behavior that is causing departments to "go around IT" or "not follow the rules," and often take the position that it's simply bad behavior or some kind of vendetta against IT. More often than not, however, they fail to internalize and analyze the real cause of the phenomenon: It's easier/cheaper/better to do business with other organizations. On occasion, they even get upset when I make this suggestion — at least until they stop and think carefully about what I've said. This is nothing personal. Departments, when trying to accomplish their essential business purpose, are, frankly, obligated to look for the best competitive solutions. It's solely about doing smart business.
Shadow apps are not, in themselves, a bad thing. Many of these systems fulfill a valid need and play a role in the success and or survival of the organisation. Some IT departments are now openly recognising this and seeking to bring the alleged 'rebels' back into the IT fold. What IT really needsto achieve this, is a technology approach that helps them deliver on these requirements at speed; technology that means that they no longer have to say 'no' or 'yes, but later' in response to requests from the business. Enabling IT to be agile by using 'low-code' rapid application development tools to build apps at high speed, can overcome the bottlenecks. So instead of outlawing Shadow IT ideas, this new approach recognizes and utilizes their creativity. Low-code platforms, such as those offered by LANSA, provide the kind of prototyping capabilities needed to validate business needs, direct with the users, iterate as they formalize their requirements, then speed up the final development way beyond the timescales they have been used to. The resulting apps are robust, well architected, high performance, and, importantly, managed and easily maintained by IT.
If we are going to be precise, we should put AI as a subset of robotic process automation. Artificial intelligence is frequently associated with robots and bots in the broader sense. But it is commonly misunderstood by the public, and, by extension, lawyers. At times, it's likely over-glorified by legal tech companies, pundits, and publications. John McCarthy created the term AI in 1956. He used it to label machines that mirror certain human cognitive traits (i.e., learning, thinking, remembering, problem-solving, and making decisions). In essence, artificial intelligence represents machines (algorithms) that can analyze vast bodies of data, learn, and correct their behavior in the process. As such, artificial intelligence depends quite a lot on the quality of data. You can't have good learning if data is sparse, or if samples aren't representative. So far, the necessity of training and data quality (or its availability in the first place) represented significant barriers to the adoption of AI in the legal industry.
---
Quote for the day:
"Every great leader can take you back to a defining moment when they decided to lead" --
John Paul Warren
---