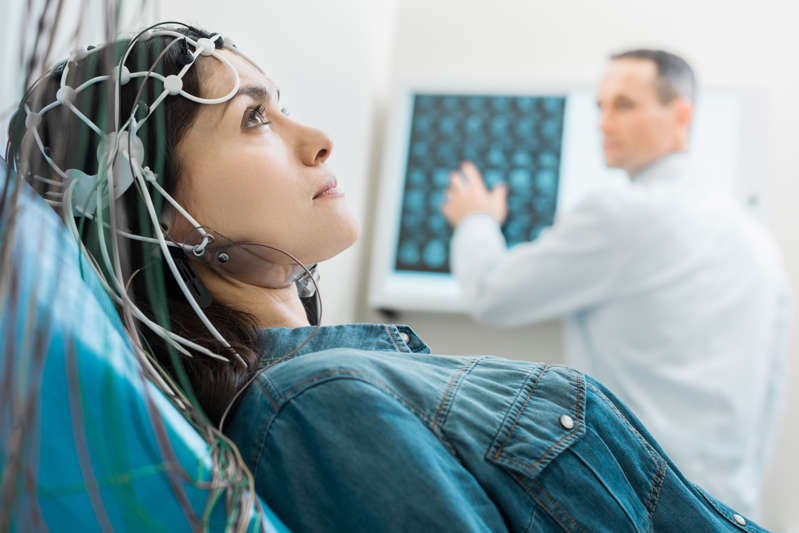 "It turns out that certain functions of the brain, like speech and memory, are located in very specific regions of the brain, about the size of your pinky." Dr Matthews believes that brain stimulation could eventually be implemented for tasks like learning to drive, exam preparation and language learning "What our system does is it actually targets those changes to specific regions of the brain as you learn," he added. "The method itself is actually quite old. In fact, the ancient Egyptians 4000 years ago used electric fish to stimulate and reduce pain. "Even Ben Franklin applied currents to his head, but the rigorous, scientific investigation of these methods started in the early 2000s and we're building on that research to target and personalise a stimulation in the most effective way possible. "Your brain is going to be very different to my brain when we perform a task. What we found is … brain stimulation seems to be particularly effective at actually improving learning."
There is no such thing as a separate DevOps for mobile apps. DevOps is an approach that works for all applications and components — from front-end mobile apps, to middleware, to backend server components and data stores. Apply the practices and principles of DevOps across all dev and ops teams in the enterprise to enable continuous delivery of all of these components. Mobile apps do have specific needs and challenges that must be addressed. Our 10 best practices of DevOps for mobile apps address these mobile-specific needs. The goal of these best practices is to bring mobile app development, quality assurance, and operational practices in line with standard enterprise applications. Adopting these best practices allows enterprises to adopt DevOps across their mobile development teams, deliver higher-quality mobile apps, and enable continuous improvement and innovation.
Keeping up to date with the sheer volume of regulatory information being published is a perennial challenge. FIs are increasingly relying on technology as a key enabler in this ongoing challenge to stay on top of regulatory requirements. Large US and European banks are spending as much as $20 billion a year on technology to help them comply with the newly evolving regulations in increasingly complex regulatory environments. Compliance costs for FIs amount to substantial parts of total expenses with a negative correlation between the size of the institution and the percentage of total costs. Globally, banks are spending in excess of $270 billion per year on compliance and regulatory obligations, having on average 10–15% of their staff dedicated to compliance. FT estimates that for some banks, it takes up to $4 billion a year to cover demands ranging from checks to prevent money laundering, to requirements to give more data to regulators for stress tests. However, these investments fade in comparison to the cost of misconduct financial institutions are continuously facing.
There is more to smart than just the physical location digital agenda. Smart is also about insightful ways of working and having a disruptive 'can do' mindset across organisations, particularly from local authority decision-makers and influencers. Where this is done at grassroots levels it can be instrumental in changing mindsets.Today, there is a stronger tendency for a more cost conscious, risk averse culture within the public sector that makes change difficult. However, learning from other countries and private sector collaborations can drive progress. Local authorities are often stuck in the mindset of problem solving today's problems with yesterday's solutions rather than thinking about what is possible in the future. Initiatives such as innovation clusters can encourage a change of culture, with local startups working together with local authorities to solve social issues. ... Collaboration across agencies, the private sector and communities is the foundation for success. It focuses on the formation of partnerships to drive change in incremental steps.
There is a unique opportunity to harness the Fourth Industrial Revolution – and the societal changes it triggers – to help address environmental issues and transform how we manage our shared global environment. Left unchecked, however, the Fourth Industrial Revolution could have further unintended negative consequences for our global commons. For example, it could exacerbate existing threats to environmental security by further depleting global fishing stocks, biodiversity and resources. Furthermore, it could create entirely new risks that will need to be considered and managed, particularly in relation to the collection and ownership of environmental data, the extraction of resources and disposal of new materials, and the impact of new advanced and automated machines. Harnessing these opportunities and proactively managing these risks will require a transformation of the current "enabling environment" for global environmental management.
People commit fraud, not the technology, and the art of fraud is getting into and out of the system. Succeed in that and the rest is the system doing its normal job. If an employee or person with authority to act can find a way into the transaction, then it is difficult to monitor. Mr Wall says: "Any information processing system that has bad input provides bad output. The blockchain can only be aware of the inputs, not the reality. The blockchain will track it as valid data, so if you have the authority to input bad data, then the blockchain will validate the bad data. You still have a dependency on the real world, trusted sources of data and authorisation. If you corrupt that then you corrupt the process." Unlocking the full potential of blockchain technology will need governments to work as a facilitator, by providing an enabling environment to interested players. There is a need to develop uniform standards, assess infrastructure requirements, deal with security concerns, raise stakeholder awareness and build trust within the financial ecosystem as a whole.
The key values of the discussed technologies align with the challenges faced by our environment and society, both now and in the coming decades. An internet of things, a mix of autonomous sensors and tools used by people in diverse environments, will broaden our detection of threats and trends. An individual with a smartphone can capture the calving of a glacier into the ocean, a new invasive species or an extreme weather event and communicate it to authorities and the world in seconds. The growing archives of big data will allow us to understand the world in both space and time and deeper trends throughout complex networks. Long-term observation networks, for example, will help us untangle sudden changes from acute events from the chronic impacts of pollution and climate change. The scale and complexity of big data, if managed appropriately, can help us understand systems beyond the reach of an individual's cognition and could help us understand ecosystems, regions and global-scale events.
The recent digital transformation of finance has not just lead to creation of innovative business models, but has also impacted the roles and responsibilities of today's CFOs. Now, it is not enough if a CFO only caters to the 'financial aspects' of an enterprise, but needs to play a larger role in influencing strategic business decisions. It is now required for a CFO to develop skills beyond the traditional responsibilities, like business planning and addressing the challenges faced by the organization during crisis. Hence, CFOs of to-day, need to play a more diversified role, with respect to giving inputs from her domain of expertise in the company's strategic decision-making process.
Meanwhile, enterprises across industries are also taking steps towards ensuring that their CFOs develop new skills to be able to support the goals of the organization. This implies that the CFOs are facing a very challenging roadmap ahead of them, wherein they are expected to take the lead in such operations.
Governments have to prepare safety nets for those people that will lose their jobs. They have to provide the right regulation to help those people that will undoubtedly lose their job and will have difficulty in finding a new job. They can do so by focusing on re-education programs to re-skill those who lost their job. This will help them find a new job in a changing society. However, governments and organisations should also prepare for the vast number of new jobs that AI and Robotics will create. The World Economic Forum predicts that by 2022, 133 million new jobs will be created. These jobs – such as data scientists, machine learning specialist, blockchain engineers, UX designers or software developers – will require considerably more education, being prepared for jobs that might not even exist. This means that governments should prepare today if they want to be ready for the robot-led society of 2025. Those governments that will encourage universities to develop new programs focused on the jobs of tomorrow will stand the best chance to minimise the impact of automation.
For-profit companies creating a product for consumers have a financial incentive to avoid bias and create inclusive products; if company X's latest smartphone doesn't have accurate speech recognition, for example, then the dissatisfied customer will go to a competitor. ... All the issues that arise from biased AI algorithms are rooted in the tainted training data. If we can avoid introducing biases in how we collect data and the data we introduce to the algorithms, then we have taken a significant step in avoiding these issues. For example, training speech recognition software on a wide variety of equally represented users and accents can help ensure no minorities are excluded. If AI is trained on cheap, easily acquired data, then there is a good chance it won't be vetted to check for biases. The data might have been acquired from a source which wasn't fully representative. Instead, we need to make sure we base our AI on quality data that is collected in ways which mitigate introducing bias.
---
Quote for the day:
"To be a good leader, you don't have to know what you're doing; you just have to act like you know what you're doing." -- Jordan Carl Curtis
---