Digital twins continue to remain an area that is underfunded and underdeveloped in the UK. This is largely due to an awareness issue. Until recently, digital twins have largely sat in the remit of academia and therefore much of the theory hasn't turned into action. Any innovation that has been brought to the table has mainly remained siloed between organisations and sectors. To counter this requires strong, central guidance on what can be achieved through digital twins. The Government is primed to take on this leading role, particularly the Department for Business, Energy & Industrial Strategy (BEIS). In an ideal scenario, we'd see it set up small scrum teams of digital twin experts to support, educate and consult organisations across the private and public sectors to first, develop business cases and proof of value, and second get them to a place where they can develop their own information management strategy to support the digital twin. This cohesive education will help to underpin a National Digital Twin strategy. Hand-in-hand with the awareness issue, is a lack of digital maturity and understanding on how to get to that point.
The biggest problem is that unlike a dirty kitchen, technical debt is mostly invisible to our non-technical stakeholders. They can only see the slowing down effect it has, but when they do, it's often already too late. It's all about new features, constantly adding new code on already fragile foundations. Another problem is that too much tech debt causes engineering teams to be in fire-fighting mode. Tech debt impacts the whole company, but for engineers, more tech debt means more bugs, more performance issues, more downtime, slow delivery, lack of predictability in sprints, and therefore less time spent building cool stuff. ... Controlling technical debt is a prerequisite to delivering value regularly, just like an organized and clean kitchen is a prerequisite to delivering delicious food regularly. That doesn't mean you shouldn't have technical debt. You will always have some mess and that's healthy too. The goal isn't to have zero mess; the goal is to get rid of the mess that slows you down and prevents you from running a great kitchen.
Humans are invariably going to be the weakest link in the chain; not even the most robust technology can prevent a victim from unwittingly handing over their private credentials. That said, while many financial institutions are investing in educational programs to teach their customers basic principles around protecting their accounts, they need to make it a continuous and ongoing initiative. Likewise, these efforts should extend to the customer-facing workers and especially contact center employees who are ultimately responsible for authenticating a customer's identity. ... Phone-based scams almost always culminate with the victim transmitting funds, buying untraceable gift cards, or sharing critical data that can be used to create synthetic identities to open new accounts. For financial institutions this means that they need to be able to establish a behavioral baseline of their customers to understand normal interactions from anomalous activities that could be earmarks for potential fraud threats.
The Agile EA Framework (AEAF) helps in breaking barriers between IT and business, ideally with increasing levels of co-location by unit and with fast forming teams that coalesce for new projects. The initial goal of the architect is to bring out a Minimum Viable Product (MVP), improve upon it, and evolve with each iteration. It would also consider the real time customer feedback while adding more features through the iterations. The overall idea is to adopt just enough architecture that would be sufficiently good to deliver the MVP and thus avoiding any big upfront designs. The AEAF helps in defining an architecture using an iterative life cycle, allowing the architectural design to evolve gradually as the problem and the constraints better understood. The architecture and the gradual building of the system must go hand in hand and the subsequent iterations address the architecture issues and address architecture decisions to arrive a flexible architecture. The following diagram depicts the AEAF framework and constituent steps associated with it.
Ethical hacking (or "white-hat hacking") occurs when people get permission to try and break into a company's systems. They then report their methods and how quickly they accomplished the task. Ethical hackers would ideally find problems before malicious parties do, giving companies time to act. Some people specializing in ethical hacking recommend having a wide but shallow knowledge pool. This equips them to find issues in cloud software, and so identify vulnerabilities that help malware flourish. ... Hack the Box is a platform for cybersecurity enthusiasts that combines hacking with gamification. The online modules cater to individuals, universities, and companies, providing content to help people hone their penetration testing skills. Think of Hack the Box as a springboard for people interested in hacking who aren't sure where to start. Besides offering an educational component, there's a community aspect. For example, people can discuss their methods and get recommendations for different techniques to apply in the future.
Several security and blockchain experts draw a direct line between this fraudulent activity and increasingly sophisticated social engineering attempts, or blatantly false advertising that may lead to poor or unsafe crypto investments. James McQuiggan, education director for the Florida Cyber Alliance and security awareness advocate for the firm KnowBe4, says, "Cybercriminals will always find emotional lures to exploit users through social engineering. Asking yourself the question, 'Is this too good to be true?' is the first step to determine if the organization is worthwhile." Further, Julio Barragan, director of cryptocurrency intelligence at the firm CipherTrace, warns against ongoing scams in which victims are lured by a convincing fraudster sending them direct messages on social media or through a friend's hacked account, promoting massive gains. Neil Jones, cybersecurity evangelist for the firm Egnyte says: "Significant change [in the space] will only occur when cryptocurrency platforms become subject to the same standardized IT requirements as traditional investment platforms ..."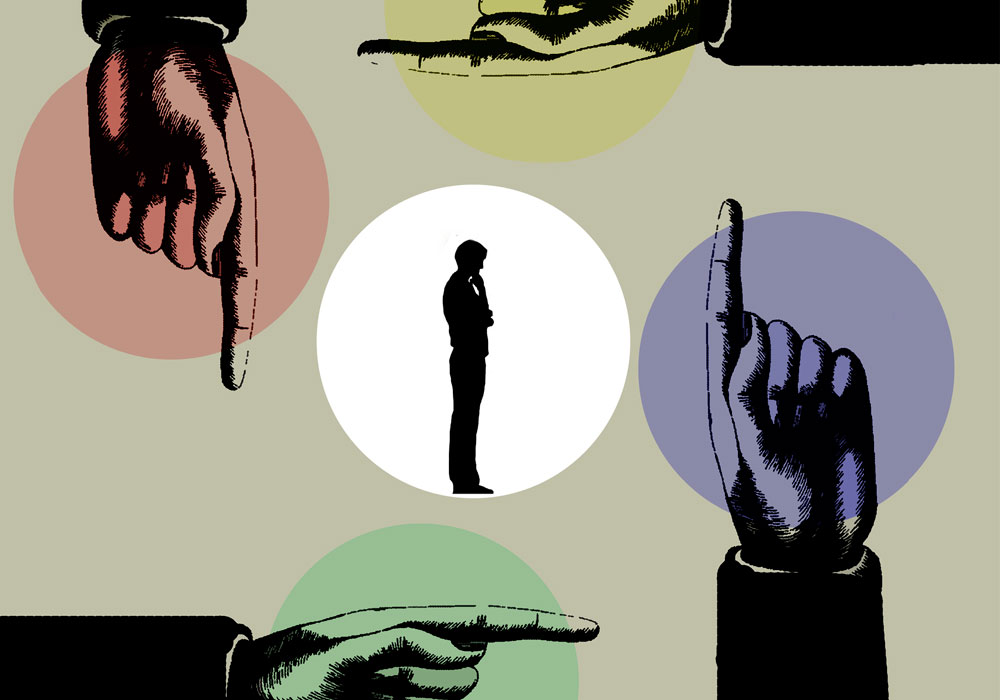 The point of the logic box is to help develop self-awareness, an essential skill of leadership that is becoming more important as we negotiate our VUCA—volatile, uncertain, complex, and ambiguous—world. Leaders and their subordinates must always examine the basic premises of a key decision and interrogate its surface validity. This came up in a recent conversation I had with Dambisa Moyo, a widely published economist who is a board member at Chevron and 3M. One of the most important qualities she looks for when assessing leaders is their ability to use different mental models for analyzing choices, an idea that she attributed to Buffett's partner at Berkshire Hathaway, Charlie Munger. "It's this idea of road-testing their thinking using different paradigms," she said. "So, if, say, an investment looks quite attractive from a financial perspective, it might look less attractive through a geopolitical or environmental lens. Given the world that we live in now, people who think about complex problems in a more versatile way have an advantage."
Since fourth parties are not generally obligated to share information with partners of their clients, organizations are now adapting their TPRM programs to address fourth-party concerns. Fortunately, there are steps companies can take to give them greater visibility into – and protection from – downstream risk. Despite growing awareness of the threat of fourth-party risk, clear guidelines, and uniform processes for fourth parties have not been established, resulting in disjointed, ad-hoc processes. Most of these processes are manual, requiring significant investment in time and labor, and opening the possibility of error and oversight. ... The first step is for companies to understand how their third parties are monitoring their vendors. This includes direct monitoring (i.e., what are they doing to monitor their third parties) and general vendor management (i.e., do they have their own vendor management program and how effective is it). Companies can ask these questions through periodic performance reviews as well as through their annual risk and due diligence reassessments.
A strong marketing team is made up of people with a diverse range of skills – from strategists and data analysts to identify strengths and map trends and focus plans, to creatives and 'doers' to design and deliver beautifully tailored campaigns. A good marketer needs to understand how technology can help to enhance, personalise and deliver these campaigns through the appropriate channels – but also to be able to think beyond the barriers of what technology can provide. Technology makes it easy to execute, analyse and measure a marketing strategy with the push of a button and while this is helpful – especially at scale – where we see the most effective personalised marketing is in teams with marketers who are not afraid to ask questions. They need to be able to query the 'why', 'how' and 'who' behind every marketing decision – whether technology or human driven – to ensure it is relevant, beneficial and being delivered to the right people in the best possible way. Good marketers know this and understand that if we want customers to continue to agree to share their data, we need to earn their trust.
Very often, a team with a performance problem lacks the knowledge of strategy. They do not feel like doing meaningful work. As a leader, you should have defined a framework within which you regularly communicate goals and connect them with strategy. You also need to be open to collect feedback from your team if they feel the goals are achievable or not. It might be that you have clear goals, but you communicate them once per year. Unfortunately, that might be too rare. Based on your context, you need to define the best cadence to remind the team and yourself about the goals. For teams that are working in compex fast changing environment you need to review the goals at least once per 3 months, maybe even more often. For example, you can schedule release planning or delivery planning sessions with your team. Once per 3 months, review with your team the delivery roadmap, release plans. Compare it with your team's current velocity and capacity. Discuss the expectations, collect feedback from your team. Afterwards use sprint review sessions and sprint planning sessions to track the progress towards the goal.
---
Quote for the day:

"A positive attitude will not solve all your problems. But it will annoy enough people to make it worth the effort" -- Herm Albright
---