Tom Kellermann, head of cybersecurity strategy atVMware Carbon Black, said, "Black Hat USA 2020 will highlight the dramatic surge and increased sophistication of cyberattacks amid COVID-19. A recent VMware Carbon Black report found that from the beginning of February to the end of April 2020, attacks targeting the financial sector have grown by 238%. Cybercriminals are also preying on the virtual workforce, the mass shift to remote work has sparked increasingly punitive attacks. Malicious actors have set their sights on commandeering digital transformation efforts to attack the customers of organization. These burglaries have escalated to a home invasion, with destructive attacks exploding to a 102% increase with the use of NOTPetya style ransomware and wipers. Spear phishing is no longer the primary attack vector, rather OS vulnerabilities, application exploitation, RDP open to the internet, and island hopping have risen to the top." Code42 CISO and CIO Jadee Hanson, said, "Top of mind for me is how the mental and emotional wellbeing of our workforce during the pandemic is impacting people's work and behavior and, as a result, their risk profiles. Businesses need to have a strong pulse on how their employees are doing.
While knowledge graphs have shown potential for the metadata repository to find relationship patterns among large amounts of information, some businesses want more from a metadata repository. Streaming data ingested into databases from social media and IoT sensors, also need to be described. According to a New Stack survey of 800 professionals developers, real-time data use has seen a significant increase. What does this mean for the metadata repository? Enterprises want metadata to show the who, what, why, when, and how of their data. The centralized metadata repository database answers these questions but remains too slow and cumbersome to handle large amounts of light-speed metadata. Knowledge graphs have the advantage of dealing with lots of data and quickly. However, knowledge graphs display only specific types of patterns in their metadata repository. Companies need another metadata repository tool. Here comes the data catalog, a metadata repository informing consumers what data lives in data systems and the context of this data. Automation and discovery make the data catalog attractive by ensuring it keeps up with fast-moving data and its changes. Business and technical users can easily query the data catalog.
Confidential computing is all about trust. Developers in this field are seeking to accelerate the adoption of what is known as "Trusted Execution Environment" (TEE) technologies. A TEE sequesters code and data away from applications on the main operating system in order to keep them away from adversaries who may gain access to the main operating system. Or, to use an analogy from this article, if the main system is in the White House, for instance, with a variety of protections, a TEE is the bunker underneath it. Within any of these bunkers, only those entities authorized by the actual data owner can view or alter the data. This enables all sorts of applications to operate efficiently without ever needing to have direct access to data. This goes beyond the better-known technique of anonymizing data, which just removes personal identifiers from a database. While anonymization protects privacy, it limits the usefulness of the data, whereas confidential computing secures data even as it is in use, allowing for wider application. Confidential computing protects encrypted software code and data from malicious administrators and hackers in public clouds; protects sensitive machine-learning models and enables privacy-preserving data analytics;
For manufacturers of connected IoT products, it is key to focus on their supply chain and increase the ability to break their products down into their respective components. Effective management of vulnerabilities can be done only when information about supply chain dependencies is accurate and recent. A second side effect of the pandemic is the massively increased reliance on cloud-based communication systems. It is unthinkable to conduct business effectively and in compliance with the current legal restrictions without holding a videoconference, sharing a document, or presenting a slide set remotely. The systems used to perform those tasks, however, are largely following the same basic principles that typical client-server architectures have been following for roughly 20 years. While the cryptographic transport protocols have improved significantly since SSLv2, there still is a disparity in the level of trust between client and server: Clients are typically considered entirely untrusted while servers hold all the secrets and relay data securely. While this is easiest for the implementors of backend infrastructure, such a design is something which is fundamentally unpleasant from a security point of view.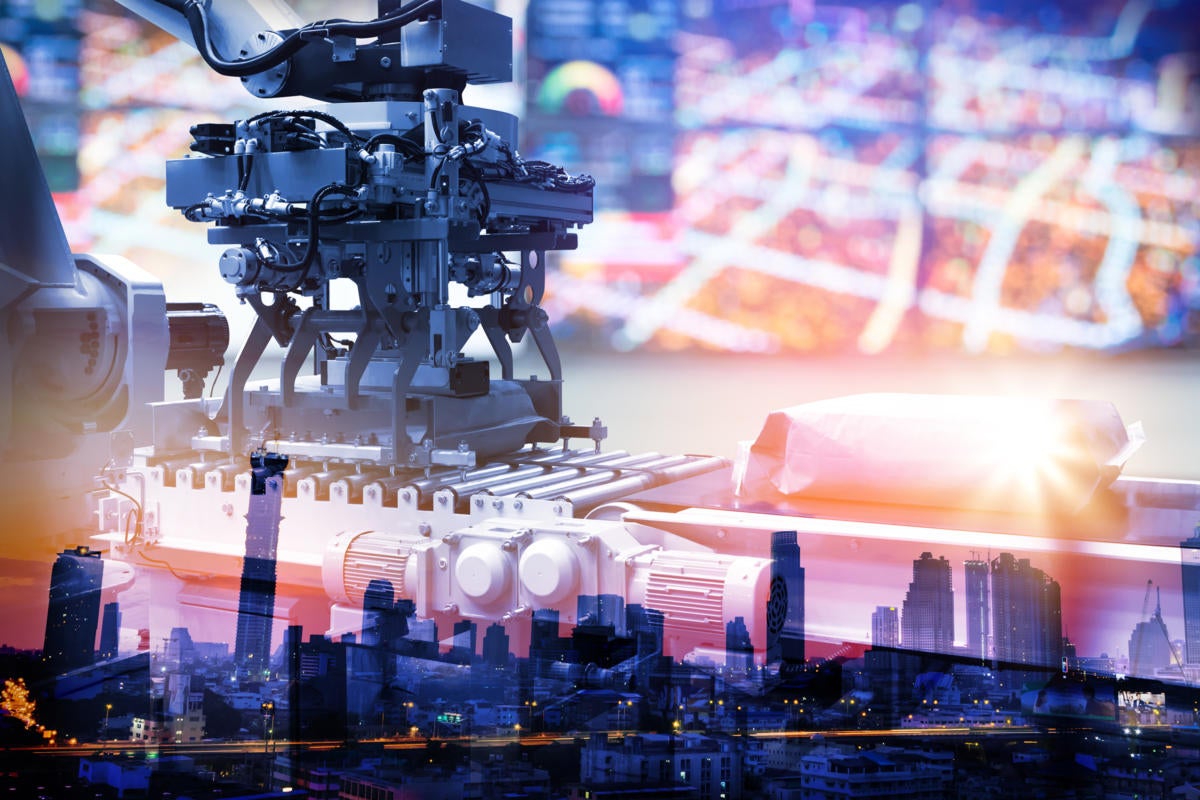 The researchers' vision for a "metal-air scavenger" could solve one of the quandaries of future IoT-enabled factories. That quandary is how to power a device that moves without adding mass and weight, as one does by adding bulky batteries. The answer, according to the University of Pennsylvania researchers, is to try to electromechanically forage for energy from the metal surfaces that a robot or IoT device traverses, thus converting material garnered, using a chemical reaction, into power. "Robots and electronics [would] extract energy from large volumes of energy dense material without having to carry the material on-board," the researchers say in a paper they've published in ACS Energy Letters. It would be like "eating metal, breaking down its chemical bonds for energy like humans do with food." Batteries work by repeatedly breaking and creating chemical bonds. The research references the dichotomy between computing and power storage. Computing is well suited to miniaturization, and processers have been progressively reduced in size while performance has increased, but battery storage hasn't.
In particular, automated discovery of IoT environments for cybersecurity purposes has been an ongoing driver of IoT automation. That is simply because there is too much machine information to manually track, according to Lerry Wilson, senior director for innovation and digital ecosystems at Splunk. The target is anomalies found in data stream patterns. "Anomalous behavior starts to trickle into the environment, and there's too much for humans to do," Wilson said. And, while much of this still requires a human somewhere "in the loop," the role of automation continues to grow. Wilson said Splunk, which focuses on integrating a breadth of machine data, has worked with partners to ensure incoming data can now kick off useful functions in real time. These kinds of efforts are central to emerging information technology/operations technology (IT/OT) integration. This, along with machine learning (ML), promises increased automation of business workflows. "Today, we and our partners are creating machine learning that will automatically set up a work order – people don't have to [manually] enter that anymore," he said
By leveraging modern technology to automate data lake migration and replication to the cloud with WANdisco LiveData Cloud Services through its patented Distributed Coordination Engine platform. This innovation is founded on fundamental IP which is based around forming consensus in a distributed network. This is an extremely hard problem to solve and to this day some people believe that it cannot be solved. So what is this problem at a high level? If you have a network of nodes, distributed across the world with little to no knowledge of the distance and bandwidth between the nodes, how can you get the nodes to coordinate between each other without worrying about any failure scenarios? The solution is the application of a consensus algorithm and the gold standard in consensus is an algorithm called Paxos. Our chief Scientist Dr. Yeturu Aahlad, an expert in distributed systems, devised the first, and even now only, commercialised version of Paxos. By doing so, he solved a problem that had been puzzling computer scientists for years. WANdisco's LiveData Cloud Services are based on this core IP including our products focused on analytical data and the challenge of migrating this data to the cloud and keeping the data consistent in multiple locations.

Whatever specific spear phishing method was used in the breach, clearly the attackers relied on a combination of technical skills and social engineering know-how to be able to convince employees into sharing their account credentials. Of course, that's the M.O. for many phishing attacks and other types of malicious campaigns. "This attack relied on a significant and concerted attempt to mislead certain employees and exploit human vulnerabilities to gain access to our internal systems." Twitter acknowledged. "This was a striking reminder of how important each person on our team is in protecting our service." Other than training employees through phishing simulations and similar methods, trying to correct human behavior is always challenging. That's why socially engineered attacks are often successful. "This incident demonstrates that social engineering is still a common method for attackers to gain access to internal systems," Ray Kelly, principal security engineer at WhiteHat Security, told TechRepublic. "The human is often times the weakest link in any security chain.
Containerizing MDM as a PaaS offering is essential to realizing the flexibility for which the cloud is renowned. Although this capability becomes redoubled with Dockers or Kubernetes orchestration platforms, containers themselves "reduce the disruption of the architecture of the platform and provide more portability and flexibility for customers," Melcher remarked. "What a container really is is kind of a preconfigured application, if you will." These lightweight repositories include everything to deploy apps. Without them, MDM as a native PaaS offering increases the propensity for vendor lock-in per cloud provider, and all but eliminates on-premise hybrid clouds. The speed and ease of containerizing MDM services lets customers "spin the platform up in a matter of minutes without downloading installation and configuration guides, spinning up a Windows server, or loading up a bunch of pre-requisites," Melcher mentioned. "All of that sort of tribal type knowledge that customers have had to historically take on when they buy an application goes away."
The negative aspects of the current situation with COVID-19 and the associated economic downturn have presented a shift in the workplace, which is driving more opportunities for growth, greater visibility into the B2B buying process, and ensuring quality customer experience throughout the buying cycle, according to Rashmi Vittal, CMO at Foster City, Calif.-based Conversica. "This change introduces intelligent automation into the workplace, something we refer to as the Augmented Workforce," she said. An Augmented Workforce describes a workplace where business professionals work alongside artificial intelligence to drive better business outcomes. One such AI-driven technology making dramatic changes for customer-facing teams, including sales, marketing, and customer success, is an intelligent virtual assistant (IVA). IVAs in turn accelerate revenue across the customer journey by autonomously engaging contacts, prospects, customers, or partners in human-like, two-way interactions at scale, to drive towards the next best action.
---
Quote for the day:
"It is amazing what you can accomplish if you do not care who gets the credit." --
Harry S. Truman
---