Due to its multi-sector application, cloud-processed data becomes a valuable resource. For governments and enterprises, it can become a viable source of revenue. As new urban and rural projects are commissioned, these high-resolution datasets are crucial for the planning process. It is useful in satisfying several government schemes such as PM Gram Sadak Yojna, PM Awas Yojna, Bharat FiberNet, and many more. For instance, SVAMITVA data along with DEM layers can help officials chart out the most optimum route of power lines for rural electrification. Similarly, digital terrain maps can help ascertain the natural slopes and assist engineers in designing efficient gravity-aided sewage networks. Cloud computing creates a centralised repository of GIS data which has the potential to drive innovation. Prior to cloud processing, data sharing of this kind had software and hardware limitations. However, the cloud brings forth unified data standards across the country making it hassle-free to access high-quality data.
More than a third of Europe's largest tech companies are currently based in London and the UK remains a beacon of technological innovation. Yet, our research suggests that tech companies across the UK lack the technological skills they need to thrive and remain safe in the challenging months ahead. With DCMS' UK Data Skills Gap report highlighting that the supply of university graduates with specialist technological skills is limited, companies must accept they have a larger role to play to increase digital skills internally rather than simply looking outside for ready-made talent. Business leaders must put adequate investment and support behind the upskilling of current employees to bolster cybersecurity talent and drive innovation. At the same time, employees should prioritize cybersecurity-related L&D to make themselves an invaluable asset to their organization – proactively identifying training opportunities with a quality L&D partner, one that aligns with their unique learning style and objectives. While there is no cookie-cutter approach to upskilling, employees should be granted access to a range of learning opportunities as part of a defined path of individual development
Whether AI will replace human jobs is less important than more vital ethical questions that need to be addressed in 2023, Bhargava says. The more pressing concern is "who's making these things and what questions are they asking about what biases are baked into it." When tools like ChatGPT are designed by teams with limited perspectives and diversity, the result is a tool lacking in perspective. "These systems that get built … are mirrors for our culture and our practices," says Bhargava. "Which way do they point and who's looking in them? No, they don't embed bias; they reflect it." There are some measures being taken to address the ethical questions around AI bias. Dakuo Wang, associate professor of art and design and computer science, says ChatGPT's real innovation is how it uses human data labelers during the process of training the AI to limit bias and increase accuracy. But even then, the technology is only as good as the data it's been trained on. Without the right data, the inaccuracies and limitations become much more obvious––and potentially dangerous.
First, it is important to have a clear understanding of the enterprise's IT-related supply chain. This includes identifying all of the suppliers, subcontractors and other partners that process, transmit or store data used in the creation of the enterprise's products and services. It is also important to understand the relationships between these different entities, as well as the specific products and services that each one provides, which results in a mapping. Once the supply chain has been mapped out, the next step is to identify the potential risks associated with each component of the chain. This includes both external and internal risks. External risks might include things like natural disasters, political instability or economic downturns. Internal risks might include things like employee turnover, equipment failure or data breaches. To identify these risks, enterprises should consider conducting a risk assessment. This will involve gathering and analyzing data from a variety of sources, including supplier contracts, insurance policies and regulatory compliance reports.
Despite many new teams and job titles springing up around DevOps, the platform engineering team is, perhaps, the most aligned to the mindset and objectives of DevOps. Platform teams work with development teams to create one or more golden pathways representing a supported set of technology choices. These pathways don't prevent teams from using something else. Pathways encourage alignment without enforcing centralized decisions on development teams. Rather than pick up tickets, such as "create a test environment", platform teams create easy-to-use self-service tools for the development teams' use. A critical part of platform engineering is treating developers as customers, solving their problems and reducing friction while advocating the adoption of aligned technology choices. ... Platform engineering alone doesn't provide a complete organizational view of performance. The DevOps structural equation model shows us capabilities for leadership, management, culture, and product that are outside a platform team's scope.
With more businesses adopting the IoT and with smart homes becoming increasingly popular, focusing on cybersecurity alone is not nearly enough. It is also important to ensure the physical security of these devices. Most of these devices are generally quite small and easily accessible and could be tampered with or stolen. Once stolen, these devices may be taken to another location where they can be disassembled and probed for any data. These stolen devices might also be used to breach the IoT systems to which they are connected. Moreover, a hacker could plant a bug in a device without even having to move it. These issues highlight how important physical security is and why companies need to take steps to ensure the physical safety of their device network. There are several standards for cybersecurity today, and in a lot of cases, companies are even required by law to comply with some of these standards. Unfortunately, no such international standards exist for the IoT. All we have are best practices and recommendations. While steps are being taken to strengthen IoT security, we have yet to see a framework of recognized, international standards for IoT security
As you build platforms out across the organization, Kersten said, it's important to ensure that the feedback loops expand accordingly. "If you first build self-service for your own team it tends to be a simpler problem," he said. "You've got the feedback loops already. You should, within a team, be talking to each other. Thinking about what you do as self-service and trying to build those abstractions for yourself, then you're hopefully freeing up time." As the platform embraces other teams, "You can't do platform engineering if you don't have some way of talking to the people who are actually going to be using the services you build, and working out what their actual problems are, because their problems will be different from yours." The "State of DevOps" report's findings underscore the need for a product manager with these "soft skills" to make platform engineering a success at scale. Sixty-one percent of respondents said strong communication skills were the most important product management skills for a platform team's success.
As with so many things, working through pressure gets easier with practice. It's like a muscle or a skill — you have to train it to strengthen it. No one is walking into the weight room for the first time and squatting with 400 pounds, nor would it be recommended. Without training, you're only going to hurt yourself. There's a reason Lionel Messi is consistently chosen to take penalty kicks; he's taken so many before and has found a way to be comfortable and successful through what's arguably the most pressure-inducing moment of the game. He's been put in the situation before and risen to the challenge repeatedly in a way other players haven't mastered yet. ... Different people have different strategies, but something I've found crucial is recognizing the adrenaline that comes with the feeling of pressure. On a physical level, the fear you might feel during those moments is not all that different from the feeling you get when you're excited, like climbing the highest point of a rollercoaster. The trick is channeling that adrenaline towards the latter and using it to fuel excitement rather than fear.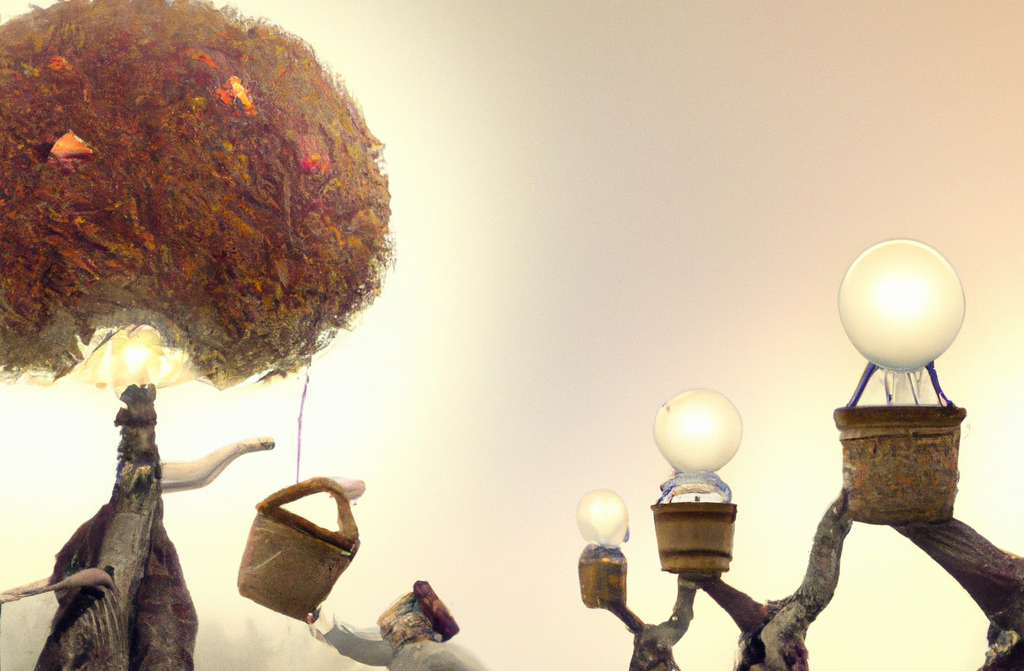 AI might be able to generate new and novel ideas by remixing what is fed into it, but that doesn't necessarily help the humans who create the input improve their access to their own creative powers. It's not just about the quality of what is generated, it is also about improving our thinking skills. Creativity might be innate but we can always get better at inviting its presence. In my experience, that's a mental skill that improves with practice. And highlighting the importance of the human element in creativity is all well and good but creators in a hurry could be ever more inclined to just press a button to get the output to meet a deadline instead of going inside, reflecting, and finding that creative state necessary to doing it on their own. And, of course, yes, AI is a tool and it is about how you use it. I think it is also about how you frame its purpose and how that relates to our values as a society. Consider the relative importance of the intrinsic value of creativity versus a context that gives more weight to the speed of delivery and amount of output.
Current enterprise architectures (EAs) were being developed in the 1980s, and while there have been iterations of them since, widely adopted EAs are still utilizing the same architectural foundations as when they were established. Take for example The Open Group Architecture Framework (TOGAF), which had its first version published in 1995. The foundation still consists of the same four architectural domains: business, application, data, and technical. That foundation was laid before the internet existed. And this is part of the problem. Today it is not uncommon to equate technology with the worldwide connection that is so ingrained in our everyday lives. While TOGAF has managed to support businesses up to now by versioning, including integrating the internet and new capabilities into its architecture, it wasn't purpose-built for today's possibilities—digital business. Our understanding of what's possible drives the need for modernizing enterprise architecture.
---
Quote for the day:
"No man can stand on top because he is put there." -- H. H. Vreeland
---