Sophia is a social humanoid robot. She was activated in February 2016 and made her first public appearance at South by Southwest Festival in mid-March 2016 in Austin, TX. Since its launch, Sophia has garnered a lot of media coverage, featuring numerous high-profile interviews, events, and panel discussions across the world. ... Toyota T-HR3 is a third-generation humanoid robot, which was designed from the get-go to be remote-controlled by a human. It is 1.5-meter tall, weighs 75 kilograms, and has torque-controlled freedom of 32 degrees with a pair of 10 fingered hands. The robot is designed to be a platform with capabilities that can safely assist people in a different variety of settings like home, medical facilities, disaster-stricken areas, construction sites, and outer space. ... E2-DR is a disaster response robot from Honda that is able to navigate through dangerous, complex environments. The robot looks like a humanoid, and heavier and tougher than the company's Asimo, first presented in 2000. Honda E2-DR is designed to perform as a rescuer in a broad range of situations dangerous for human rescuers
What many industry analysts are seeing, much to the chagrin of large data/search players like Google, is that OpenAI has leaped to the forefront of providing the capabilities to handle the data requirements of the supercloud. A lot of this is due to the concentrated capabilities within ChatGPT born from tedious underlying work, such as the training of machine learning models, according to Xu. As a result, companies need to be proactive enough to see the AI technologies as critical to a supercloud future instead of just being in the count while leaving AIOps on the back burner. For most of the Fortune 500 companies, your job is to survive the big revolution," Xu said. "So you at least need to do your walmart.com sooner than later and not be like GE with a lot of the hand-waving." Microsoft, for its part, has shown some of that foresight, as it's recently invested around $10B into OpenAI and worked with the company across several areas, including its OpenAPI services.
The bigger the company, the greater the likelihood that there'll be considerable amounts of legacy code lurking in the depths of the organization's systems. Very few developers properly understand legacy code, so it's usually highly opaque. Some employees might know the connections for some of the lines of code, and some sections might have been replaced more recently, but in general there's very poor visibility into which services are related to which database, which services are sharing data with which other services, and other aspects of legacy code. On top of all this, data mapping projects are caught in a tech version of Zeno's paradox. Most of the projects that are being mapped are live projects, which means that more data, more tables, and more connections are being added on a continual basis. But most data mapping is currently carried out manually. The map is out of date as soon as it's completed, because of the speed at which live projects expand. There's no way that human employees can keep up with the pace at which new data and relationships are added to the project.
The report delves into the factors that could provide the biggest gains in enterprise security resilience, whether based on culture, IT environment, or security technology. Cisco took these factors and devised a security resilience scoring system based on seven areas. Those most closely adhering to these core principles are in the top 10% of resilient businesses. Those missing most of these elements are in the bottom 10%. Culture is especially vital. Those with poor security support from the C-suite score 39% lower than those with strong executive support. Similarly, those with a thriving security culture score 46% higher than those lacking it. But it isn't all about culture. Staffing, too, played a definite role, whether based on experienced staff, certification and training, or the sheer number of internal resources. The report shows those companies maintaining extra internal staffing and resources to respond to incidents gain a 15% boost in resilient outcomes. In other words, headcount can mean the difference between faring well and poorly during an event.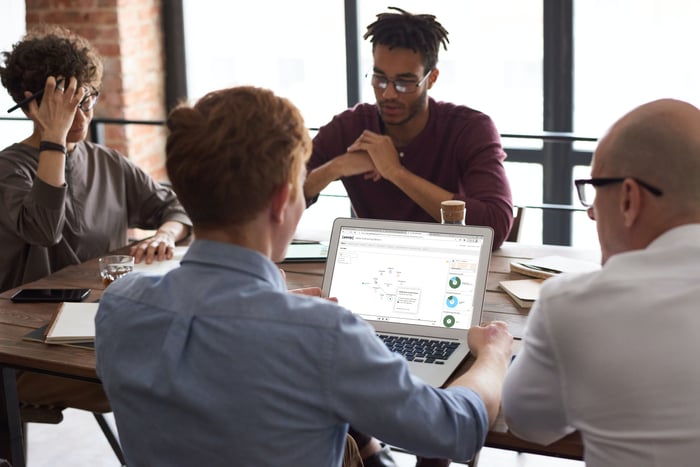 Distributed architecture is not exactly a new thing to the average IT department, but organizations aren't always aware of all the benefits that it provides – things like improved scalability, performance, cost savings and resiliency. ... Cost savings is a common driver for establishing a distributed architecture. By setting up multiple nodes, you can route traffic through the nearest node instead of relying on more simple call trafficking rules - like all participants connect to the node closest to the first person to join the call. Bandwidth consumption on WAN networks can be very expensive, with transatlantic costs especially high. With Pexip, nodes can be placed within your internal network to reduce the cost of the traffic on WAN networks. An added cost-saving feature from Pexip comes from our media transcoding. Media streams coming back from Pexip are reduced in size as they travel between nodes. Since Pexip handles the compute, you're left with a more efficient media traffic flow that costs less. Distributed architecture means that your entire deployment is more resilient.
IT infrastructure and security operations teams live in two worlds that are often separated by design. Whilst the SecOps teams want to regulate all access as strictly as possible, the IT infrastructure teams need to be allowed to access all important systems for backup. Many of these teams are not collaborating as effectively as possible to address growing cyber threats, as a recent survey found out. Those respondents who believe collaboration is weak between IT and security, nearly half of respondents believe their organisation is more exposed to cyber threats as a result. For true cyber resilience these teams must work closely together, as the high number of successful attacks proves that attack vectors are changing and it's not just about defence, but backup and recovery. ... If financial organisations want to achieve real cyber resilience and successfully recover critical data even during an attack, they will have to modernise their backup and disaster recovery infrastructure and migrate to modern approaches such as a next-gen data management platform.

IT and cybersecurity teams can work with other business decision-makers to assess risk levels for each system. This involves comparing the organization's business model against the IT infrastructure to determine which systems are mission-critical to operations. During the risk analysis, key considerations -- such as whether the organization can survive without email for a week, what systems are regularly backed up and what systems are cloud-based vs. on premises -- should be weighed and addressed. Organizations may want to assign tiers to each system to define which ones must be restored the fastest. It's often the safest course to colocate critical systems or keep certain backup systems offline. Ensure the colocation isn't connected to the corporate network via Active Directory and that it's segmented from other systems, as compromises can occur if the colocation is the primary environment for data storage and has a connection to the corporate network. Colocation lets organizations bring the most essential systems back online and continue operations, even if core systems have been breached or otherwise disrupted.
Data governance can help teams oversee and control access to confidential information. You could unlock automation for data security faster with a no-code/low-code approach. A no-code approach could make self-service data governance easier by handling all of the complicated things behind a simple interface. Your data teams won't have to write hundreds of lines of code to handle complex, repetitive procedures like applying granular access policies to many users simultaneously. To simplify your transition to no-code, start with a pilot. Look for no-code/low-code technology that lets you move quickly into implementation. Prioritize options that let you sign on to the service in minutes without requiring long-term contracts. Then, connect your cloud database and control access with classification-based policies that don't require your team to write code to allow only approved users to view the data. When the situation calls for more customization, like trying to see who has access to your cloud database, test the low-code capability. ... A no-code/low-code capability could make the job of managing data governance infinitely easier.
Securing running microservices is just as crucial to an effective CI/CD security solution as is preventing application breaches by moving security to the pipeline's earlier stages. The context necessary to comprehend Kubernetes structures — such as namespace, pods and labels — is not provided by conventional next-generation firewalls (NGFW). Once the perimeter has been compromised, the risk of implicit trust and flat networks on thwarting external attacks provides attackers a great deal of surface. As a result, it's important to leverage a platform that enables continuous security and centralized policy and visibility for efficient and effective continuous runtime security. The majority of application teams automate their build process using build tools like Jenkins. Security solutions must be included in popular build frameworks to bring security to a build pipeline. Such integration enables teams to pick up new skills quickly and pass or fail builds depending on the requirements of their organization.
In the modern data stack, data quality issues can range from semantic and subjective – which are hard to define – to operational and objective, which are easy to define. For instance, objective and easier-to-define issues would be data showing up with empty fields, duplicate transactions being recorded, or even missing transactions. More concrete, operational issues could be data uploads not happening on time for critical reporting, or a data schema change that drops an important field. Whether a data quality issue is highly subjective or unambiguously objective depends on the layer of the data stack it originates from. A modern data stack and the teams supporting it are commonly structured into two broad layers: 1) the data platform or infrastructure layer; and, 2) the analytical and reporting layer. The platform team, made up of data engineers, maintains the data infrastructure and acts as the producer of data. This team serves the consumers at the analytical layer ranging from analytics engineers, data analysts, and business stakeholders.
---
Quote for the day:
"Don't be buffaloed by experts and elites. Experts often possess more data than judgement." -- Colin Powell
---