Segment Routing uses a routing technology or technique known as source packet routing. In source packet routing, the source or ingress router specifies the path a packet will take through the network, rather than the packet being routed hop by hop through the network based upon its destination address. However, source packet routing is not a new concept. In fact, source packet routing has existed for over 20 years. As an example, MPLS is one of the most widely adopted forms of source packet routing, which uses labels to direct packets through a network. In an MPLS network, when a packet arrives at an ingress node an MPLS label is prepended to the packet which determines the packet's path through the network. While SR and MPLS are similar, in that they are both source-based routing protocols, there are a few differences between them. One of these key differences lies in a primary objective of SR, which is documented in RFC7855, "The SPRING [SR] architecture MUST allow putting the policy state in the packet header and not in the intermediate nodes along the path.
Much of the traction that does not come from exchanges or trading has been generated decidedly in infrastructure layers in 2019. Node infrastructure provider Blockdaemon, having recognized the market's propensity to proliferate new decentralized networks, is generating revenue across an impressive 22 such networks today and continues to grow month over month. The Graph is serving over 400 public smart contract subgraphs, with request volume clocking millions of daily data queries. Meanwhile, 3Box's self-sovereign identity and data solution is rapidly integrating across the Ethereum ecosystem, within wallets like MetaMask and many of the new user onboarding solutions, like Portis and Authereum, and even governance experiment MolochDAO. Blockchain's road to mainstream adoption depends on institutional backing of businesses that support blockchain infrastructure and enable traditional investors both to capitalize and participate in digital asset networks. As such, the compliance levels of exchanges have been increasing to support institutional clients.
The connected ambulance 5G network slicing concepts were demonstrated at the Mobile World Congress (MWC) in Barcelona, Spain in Feb 2019 by Dell EMC Cork Centre of Excellence (CoE). Network slicing is a type of virtual networking architecture similar to software-defined networking (SDN) and network functions virtualization (NFV) whose goal is software-based network automation. This technology allows the creation of multiple virtual networks on a shared physical infrastructure. ... The goal for the future of connected care in emergencies would be to identify the conditions for Stroke, CHF & MI; measure and score at site, predictively collect Electronic Medical Record (EMR) metadata in conjunction with specific image studies via DICOM (Digital Imaging and Communications in Medicine) and combine this with the metadata from disease-specific epidemiological studies for that geographic region — all within the "golden hour". This combinatorial analysis at the "point of care" is the future and can prevent disability and death at scale — especially since not all the ambulance visits are emergencies.
In transfer learning, a machine learning algorithm is trained in two stages. First, there's retraining, where the algorithm is generally trained on a benchmark data set representing a diversity of categories. Next comes fine-tuning, where it is further trained on the specific target task of interest. The pretraining step helps the model to learn general features that can be reused on the target task, boosting its accuracy. According to the team, transfer learning isn't quite the end-all, be-all of AI training techniques. In a performance evaluation that compared a range of model architectures trained to diagnose diabetic retinopathy and five different diseases from chest x-rays, a portion of which were pretrained on an open source image data set, they report that transfer learning didn't "significantly" affect performance on medical imaging tasks. Moreover, a family of simple, lightweight models performed at a level comparable to the standard architectures. In a second test, the team studied the degree to which transfer learning affected the kinds of features and representations learned by the AI models. They analyzed and compared the hidden representations in the different models trained to solve medical imaging tasks, computing similarity scores for some of the representations between models trained from scratch and those pretrained on ImageNet.
Ford is thought to be one of the bigger users of exoskeletons to date, but other car makers are deploying exoskeletons, although several have opted for build-your-own rather than off the shelf systems. Hyundai debuted its own exoskeleton vest, the VEX, earlier this year. The back-worn exoskeleton "is targeted at production-line workers whose job is primarily overhead, such as those bolting the underside of vehicles, fitting brake tubes, and attaching exhausts", Hyundai said, and is expected to be rolled out at Hyundai plants. GM meanwhile has teamed up with NASA to create a robotic glove that can help increase the amount of force a wearer can exert when gripping an object or lifting up a piece of equipment for long periods, cutting the likelihood of strain or injury. Closer to home, the construction industry is also shaping up to be another significant user of exoskeletons. Builder Wilmott Dixon, for example, started piloting the ExoVest at a Cardiff site last year. One factor driving the rollout of exoskeletons in both the construction and auto industries is the possibility of cutting worker injuries as well as enabling skilled staff to work for longer.
Art is a very important part of that, because what we find in a lot of our data science engagements is there's a lot of exploration of what might be possible, the realm of what's possible. So, we tried to empower the power of 'might,' right? That might be a good idea, that might be something, because if you don't have enough might ideas, you never have anything, any breakthrough ideas. And so, this art of thinking like a data scientist, this kind of says, 'Yeah, there's a data science process.' But think about it as guardrails, not railroad tracks. And we're going to bounce in between these things. And oh, by the way, it's really important that your business stakeholders, your subject matter experts, also understand how to think like a data scientist in this kind of non-linear creative kind of fashion, so you come up with better ideas. Because we're all in search of variables and metrics that might be better predictors of performance, right? And the data science team will have some ideas from their past experience.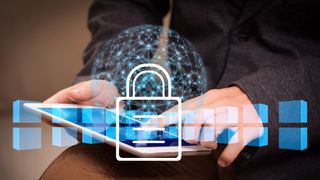 Teams are struggling to implement these new tools and 71 percent said that they are adding security technologies faster than they are adding the capacity to proactively use them. This added complexity is also compromising their threat response with 69 percent of security decision makers surveyed saying that their security team currently spends more time managing security tools than effectively defending against threats. To make matters worse, a majority of enterprises are less secure today as a result of security tool sprawl and over half (53%) say their security team has reached a tipping point where the excessive number of security tools in place adversely impacts their organization's security posture. ReliaQuest's CEO, Brian Murphy provided further insight on the report's findings, saying: "Cyber threats continue to rise and require companies to mitigate risk. While it's tempting to think another piece of technology will solve the problem, it's far from true -- in fact, this survey proves more tools can worsen enterprise security by adding complexity without improving outcomes.
For starters, GDPR applies to all European data but is a minimum requirement. Individual countries in the EU have their own laws that are often more restrictive. Alternatively, CCPA is applicable to California data only and excludes any data that is already covered by a federal law, such as HIPAA or GLBA. While GDPR protects personal information (PI) that could potentially identify a specific individual -- including name, address, telephone number and Social Security number (SSN) -- CCPA goes beyond to include product purchase history, social media activity, IP addresses, and household information. Under CCPA, companies are required to include a single, clear and conspicuous "Do Not Sell My Personal Information" link on homepages. Alternatively, GDPR offers various opt-out rights, each of which requires individual action. Under GDPR, administrative fines can reach 20 million euros or 4% of annual global revenue, whichever is greatest. For CCPA, the California Attorney General can fine companies $2,500 per violation or up to $7,500 for each intentional violation.
Between July and September, Google sent more than 12,000 warnings about state-sponsored phishing attacks targeting its users in the US. According to Verizon's annual cybersecurity report, phishing is the leading cause of data breaches, and Google said in August that it blocked about 100 million phishing emails every day. But phishing links don't just come in emails: They can also appear in malicious advertisements, or through direct messages on chat apps. For those of you using a Chrome browser, Google is launching an extra level of protection against phishing through real-time checks on site visits. You can turn it on by enabling "Make searches and browsing better" in your Chrome settings. This protection was already available for Chrome's Safe Browsing mode, which checked the URL of every website visited and made sure it was not on Google's block list. The block list is saved on devices and only synced every 30 minutes, allowing savvy hackers to bypass the filter by creating a new phishing URL before the list updates.
Nearly two-thirds (63%) of survey respondents claim that security analytics and operations are more difficult today than they were two years ago. This increasing difficulty is being driven by external changes and internal challenges. From an external perspective, 41% of security pros say that security analytics and operations are more difficult now due to rapid evolution in the threat landscape, and 30% claim that things are more difficult because of the growing attack surface. Security teams have no choice but to keep up with these dynamic external trends. On the internal side, 35% of respondents report that security analytics and operations are more difficult today because they collect more security data than they did two years ago, 34% say that the volume of security alerts has increased over the past two years, and 29% complain that it is difficult to keep up with the volume and complexity of security operations tasks. Security analytics/operations progress depends upon addressing all these external and internal issues.
---
Quote for the day:
"Growth is painful. Change is painful. But nothing is as painful as staying stuck somewhere you don't belong." -- Mandy Hale
---