The potential for IoT solutions in industrial environments is huge, and sadly, it is also necessary. Because in contrast to the possibilities uncovered by the WEF, the Organisation for Economic Cooperation and Development, (OECD) has reported that a group of 'mega trends' are driving change throughout businesses and the world at large, trends that will influence policy, commodity prices, energy and even the availability of water and other essential resources. The OECD's trends include the world's population being forecast to grow by an additional 3 billion by 2050, almost half as much again as today's population. So many people on the planet will place exponentially greater demand on agricultural land for cereal crops and animal products, while 55% more water will be required for social needs and 400% more water would be needed by manufacturing compared with the year 2000. On top of that, such an increase in population would also mean manufacturing's demand for electricity would ramp up by 140%.
A significant disruption to the financial landscape is likely to come from the big tech firms, who will use their enormous customer bases and deep pockets to offer financial products based on big data and artificial intelligence. These developments hold out the promise of accelerating inclusion and modernizing financial markets, but raise, in addition to privacy issues, competition and market concentration concerns, both of which could lead to vulnerabilities in the financial system. China's technology industry is a prime example of this trade-off between benefits and challenges. Over the last five years, technology growth in China has been extremely successful and allowed millions of new entrants to benefit from access to financial products and the creation of high-quality jobs. But it has also led to two firms controlling more than 90% of the mobile payments market. This presents a unique systemic challenge to financial stability and efficiency, and one I hope we can touch on during the G20, and address in a cooperative and consistent fashion
We need to have what I term as a "people-first" AI strategy. We have to use technology, not because technology exists, but because it helps us to become better individuals. When organizations deploy AI inside their work processes or systems, we have to explicitly focus on putting people first. This could mean a number of things. There will be some instances of jobs getting automated, so we have to make sure that we provide adequate support for re-skilling, for helping people transition across jobs, and making sure they don't lose their livelihoods. That's a very important basic condition. But more importantly, AI provides tools for predicting outcomes of various kinds, but the actual implementation is a combination of the outcome prediction plus judgment about the outcome prediction. The judgment component should largely be a human decision. We have to design processes and organizations such that this combination of people and AI lets people be in charge as much as possible. There has to be a human agency-first kind of principle that lets people feel empowered about how to make decisions, how to use AI systems to make better decisions.
There is a unique challenge that third-world countries, especially those in the Asian continent are facing. That is the quadrupling of ageing population. The United Nations Population Division reports that the population of elderly (aged 65 and above) has increased four times the ageing population of 1900s. Accompanied by a decline in birth rates, this means there are more elderly who need healthcare support than ever before. Time, distance and talent shortage makes it difficult to attend to these elderly on a regular basis. It is here that remote patient monitoring systems pitch in with a helping hand. Enabled with advanced technologies like the Internet of Things and telemedicine, healthcare professionals are now able to reach out to remotely located elderly easily. Singapore's Elderly Management System (EMS) is a classic example of such data-driven health care initiatives. ... Forecasting healthcare requirements on a regional level cannot be done with the siloed information. Doctors, hospitals and administration need a combined view of the population demographics, the health challenges that they face and the bottlenecks that need to be resolved to improve health care.
At its core, AI is about automating judgments that have previously been the exclusive domains of humans. This is a significant challenge unto itself, of course, but it brings with it significant risk as well. Increasing effort, for instance, is required to make the decisions of AI systems more transparent and understandable in human terms. Additionally, best practices are emerging on how to use data sets and testing to ensure each sub-population of users is treated with fairness and consistency. There are also adversarial examples — deliberately misleading input intended to cause an AI system to misbehave — as well as deepfakes — realistically modified video — among many other emerging challenges. As leaders in AI, it's our responsibility to face all of these complexities, and provide the expertise our customers and their users need to steer this technology in the right direction. ... Sooner or later, every technology transitions from an elite niche to a mainstream tool. AI is now undergoing a similar transformation. After years of hype around mysterious neural networks and the PhD researchers who design them, we're entering an age in which just about anyone can leverage the power of intelligent algorithms to solve the problems that matter to them.
The combination of Kaminario VisionOS and Flex software enables customers to build racks of commodity, off-the-shelf compute and solid-state drives (SSDs), and to then compose those resources into logical storage resources that are tailored to specific requirements. For example, to serve high performance workloads, the configuration can be CPU-heavy to drive controller functionality with a smaller amount of SSDs. More capacity-oriented workloads may require just two controllers but larger amounts of high-capacity flash. These most basic configuration of these storage resources include two active-active storage controllers and storage capacity in the form of SSDs, and Fibre Channel (FC) or iSCSI connectivity. These storage resources can be scaled as needed, adding one or more storage controllers for additional performance, or one or more JBOF shelves for additional capacity. This enables creation of scale-out clusters which complement the ability of each node to scale up with additional flexibility.
One of the biggest mistakes companies make is placing too much emphasis on the digital portion of digital transformation, said Solis. In other words, companies shouldn't take on digital initiatives for the sake of the trend. Companies will fail if they follow "Whatever the flavor of the month is, when you look at getting that technology because it's hot, and it's what everybody is doing," said Solis. "If you don't give it a sense of purpose, then that technology is going to be finite in its value to the organization." ... When teams get overwhelmed with too many digital transformation initiatives, their communication will begin to crumble, and the projects will follow suit, Hennessy noted. Organizations must make sure everyone in the company is aware and up to speed on the digital changes occuring. "If the communication is consistent and solid about the 'why' for the change, that can help the organization be ready for it," Hennessy said. "Then you make the change, with a lot of communication around it, reinforce the change over time, and reframe into this new state. ..."
To clarify, the key job of the Enterprise Architect is to deliver the enterprise model, the blueprint. Because today, each Enterprise Architect comes with its own definition and preferred framework, to avoid conflicting EA developments and directions, the enterprise should employ only one Lead Enterprise Architect. The Enterprise Architect has to establish the EA framework, principles, methods and tools, coordinates the team, and plans the work. The role ultimately has to harmonize and coordinate the development of all business units architectures to make sure they fit coherently in the whole. If the enterprise is large enough though, for each business unit there should be an EA architect who reports, in architectural matters, to the Chief EA so that all outcomes are compatible. The Solution Architects may or may not report to the Chief Architect depending on the IT organization. Likewise, the Information Architects and Process Analysts may not report to the EA Architect.
Alongside the surge in interest in data and tech acquisitions, international regulatory bodies are stepping up their levels of scrutiny to ensure that M&A activity is fair and doesn't compromise national security or public interest – and this is inevitably making acquisitions of digital assets more complex. While our report found that between 2009-2017, less than one per cent of deals were withdrawn without completion as result of regulatory intervention, the number of deals that are being investigated – and which take longer to complete as a result – is much bigger. The cause for concern is that regulatory bodies are looking to increase their scrutiny and therefore the number of deals expected to be investigated looks set to increase dramatically, which will impact companies from across multiple sectors that are buying or selling data assets. There are also questions around how the traditional review standards and tools can, and should, be applied to data deals. So why the increased scrutiny by authorities?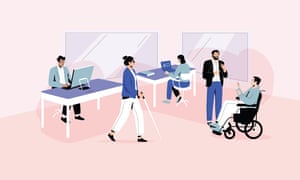 Data released by Ofcom earlier this year revealed that people with disabilities are being left behind or are simply not using modern tech to the same degree as the rest of the population. The report states that only 53% of people with disabilities have a smartphone in their household, compared with 81% of non-disabled people. Ofcom also noted that 67% of people with disabilities use the internet, compared with 92% of non-disabled people. The consequences of improving this situation are profound. According to disability charity Scope, if a million more people with disabilities could work, the UK economy alone would grow by 1.7%, or £45bn. This is a fact Microsoft is aware of and working to change. In April this year it reached the highest level of the government's disability employment scheme and became a Disability Confident Leader. This is a status it shares with technology resell partner John Lewis, which achieved its leadership credentials for disability employment in February this year.
---
Quote for the day:
"Good leaders must first become good servants." -- Robert Greenleaf
---