Colleges and universities are recognizing that degrees are much like currency. They are sheets of paper that serve as an exchange with employers to signal the graduate has the types of skills that are necessary for the job. The better the degree, the more value a student may have in the workforce. By moving degrees into a form of digital record where the student can own it as a type of currency, rather than the institution holding it, they can put that currency into a massive decentralized network, much like bitcoin. This would allow employers to see students' records more easily. Feng Hou, CIO of Central New Mexico Community College, explained that his institution's decision to look into blockchain technology came from an initiative to convert college-owned technology into student-owned technology — with one of those areas being digital credentials and transcripts. Central New Mexico Community College, working with a vendor called "Learning Machine," developed an open-source platform where digital diplomas could be recorded and shared in major professional networks.
AI tools might change the nature and number of jobs, or be used to manipulate people, Brin says—a line that may prompt readers to think of concerns around political manipulation on Facebook. Safety worries range from "fears of sci-fi style sentience to the more near-term questions such as validating the performance of self-driving cars," Brin writes. All that might sound like a lot for Google and the tech industry to contemplate while also working at full speed to squeeze profits from new AI technology. Even some Google employees aren't sure the company is on the right track—thousands signed a letter protesting the company's contract with the Pentagon to apply machine learning to video from drones. Brin doesn't mention that challenge, and wraps up his discussion of AI's downsides on a soothing note. His letter points to the company's membership in industry group Partnership on AI, and Alphabet's research in areas such as how to make learning software that doesn't cheat), and AI software whose decisions are more easily understood by humans.
Just look to Chipotle. After a major E. coli breakout in late 2015, the company's profits dropped 44% compared with the same quarter the previous year. It has since given out millions of coupons to lure customers back with free food, but the company still hasn't fully restored customer trust. There is a way to increase trust in the food industry. Blockchain solutions are already up and running in other industries like pharma and gold production—and they are ready to be applied to the food space. Every year, one in 10 people around the world become ill due to foodborne diseases, and approximately 420,000 of them die. Part of the reason we still see statistics like this is because it takes far too long to isolate product recall or contamination issues in the supply chain. Right now, IBM and Walmart are working on a solution for this. They're improving Walmart's food tracking abilities in China. Under the company's current system, the pair estimated that it took days—even weeks—for Walmart to track a package of mangos from the farm to the store.
Avatar robots are still experimental, but if the market for collaborative robots is any indication, there could be significant demand. Also known as cobots, collaborative robots are covered with soft materials and can work alongside people in assembly and other jobs. The market for cobots is expected to grow to $12 billion by 2025, according to Barclays Equity Research. Remote operation of robots for work outside the factory, however, is already well established. Intuitive Surgical, for instance, has sold over 4,200 of its da Vinci surgical robots, which reproduce a surgeon's hand motions through small incisions in a patient's body during operations such as hysterectomies; benefits may include shorter recoveries. Many workers around the world may be concerned about losing their jobs to automation, but the risk varies from country to country. A recent OECD study estimates that 33 percent of jobs in Slovakia are "highly automatable", but only 6 percent in Norway, though the authors caution that "the actual risk of automation is subject to significant variation."
The problem is that most of these application services are delivered in a shared infrastructure model. Each application gets its own "virtual representation" but it physically resides on a shared piece of software or hardware. This can cause real problems – and is in part a source of the friction that remains between IT and app dev. It's this shared nature of systems that brought us change windows and review boards and Saturday night deploys (with pizza, to keep us placated) – the processes that slow down development and make deployment a frustrating experience for all involved. We're no longer deploying monolithic monster apps. Even if we haven't gone manic microservices and decomposed apps into hundreds of little services, we still have more apps that are on more frequent deployment schedules. Apps that are developed in week-long sprints rather than year-long projects, and need to push updates faster and more frequently. That, ultimately, is more of the reason (public) cloud has been so successful. Because it's my app and my infrastructure and I don't have to wait for Bob or Alice or John before I push an update.
Technology's advance into all industries and jobs tends to send ripples of worry with each evolution. It started with computers and continues with artificial intelligence, machine learning, IoT, big data and automation. There are conflicting views on how new technology will impact the future of jobs. But it's becoming clear that humans will need to work with technology to be successful -- especially as it relates to the hiring process. There's a great example of this explained by Luke Beseda and Cat Surane, talent partners for Lightspeed Ventures. On a recent Talk Talent To Me podcast episode, they spoke with the talent team at Hired, where I work, about why it's critical to understand why a candidate is pursuing a given job. They concluded that machines can't properly manage the qualitative aspect of hiring. For example, machines can't tell if a candidate is seeking higher compensation or leveraging a job offer to negotiate new terms with their current employer. Humans can. However, machines are better at making processes more efficient.
Giving evidence to the committee, professor Sian Ellard of the South West NHS Genomic Medicine Centre said it was unrealistic to expect "all of the planned infrastructure to be in place" for the launch of the genomic medicine service. "Significant digital infrastructure is needed to support routine genomic medicine, and it is welcome that some centres and hospitals already have solutions in place. However, the wider programme to improve NHS infrastructure is running to a later timeframe than the planned genomic medicine service," the committee's report said. "The digital infrastructure in place should be one consideration involved in decisions on providing whole genome sequencing in place of conventional alternative diagnostic tests, to avoid attempting to roll out a Genomic Medicine Service at a speed that cannot be delivered." Committee chair, Norman Lamb, said that the new service "could dramatically improve the health outcomes of UK citizens, but that the committee is concerned its potential is threatened by delays to digital projects.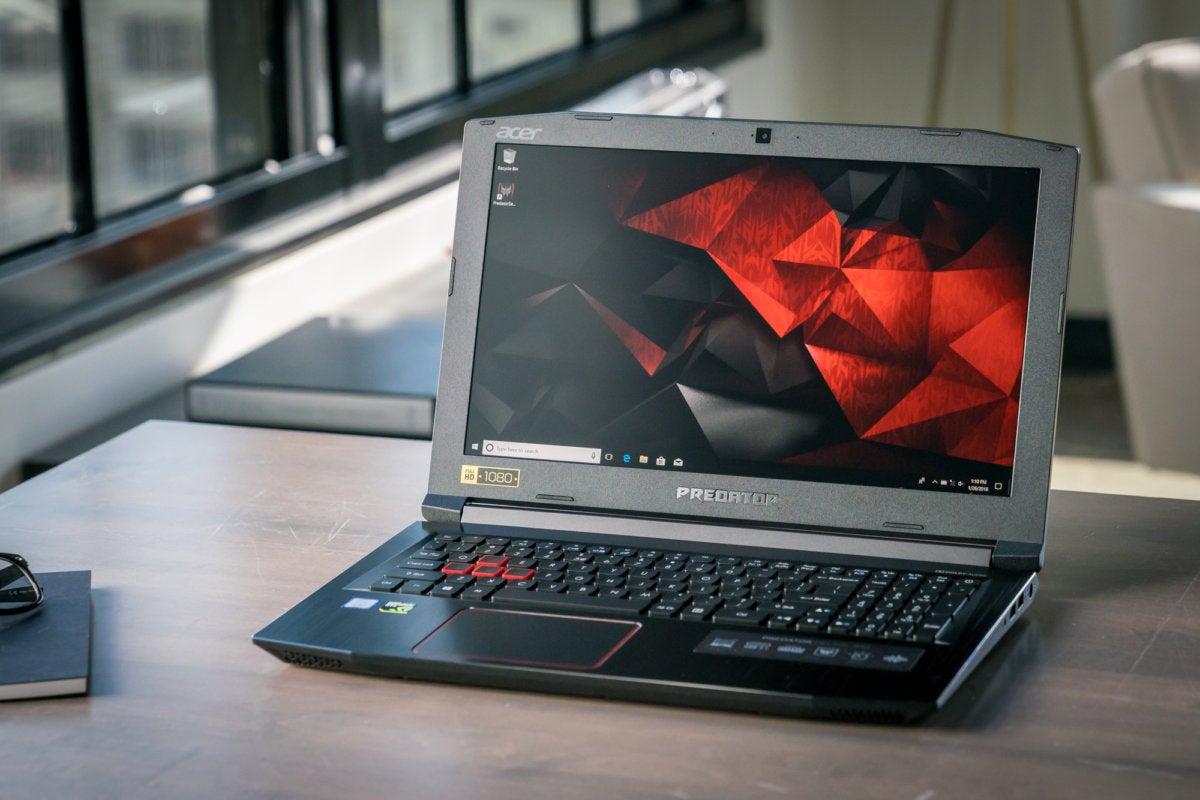 Intel's 8th-gen "Coffee Lake" mobile CPUs arrived en masse this month, packing more cores and higher performance than ever before. What does that mean for budget gaming laptops? If you've been waiting for the prices of gaming laptops to plunge now that next-gen processors are here, prepare to be a little disappointed. Prices of older laptops generally don't drop too much when the next big thing shows up. The reasons vary, but in general, PC vendors typically manage inventories fairly tightly to avoid being left with a lot full of Oldsmobiles when the new models come in. That's not always the case though, and sometimes you'll find some nice deals if you know where—and when—to look. Discounts on older hardware isn't the only way Intel's 8th-gen CPUs will affect budget gaming laptops though. Beyond straightforward discounts, it's also worth keeping in mind that with the 8th-generation of Intel processors, you're essentially getting yesteryear's Core i7 performance in today's Core i5 chips—and at Core i5 prices too.
Most data protection solutions today comprises two distinct components; the backup software and the backup hardware. The software moves data from production storage to backup storage. It also manages critical factors like ensuring the online backup of applications, as well as locating protected data when necessary, and rapid data recoveries. Data protection hardware typically focuses on cost-effectively storing data for an extended time frame. Ironically, other than the move from tape to disk, most data protection hardware solutions have not invested in making sure that the recovery process is fast. While some backup software vendors have come out with backup appliances, these solutions are typically just pre-installed versions of their software on a set piece of hardware. There is seldom any optimization for leveraging those aspects of that hardware. IT needs a new approach; one that more seamlessly integrates backup hardware and software into a single solution where the software takes full advantage of the hardware and creates an environment specific to data protection.
Imagine you are a woman in search of romance in this new world. You say, "Date," and your Soulband glows; the personal AI assistant embedded on the band begins to work. The night before, your empathetic AI scoured the cloud for three possible dates. Now your Soulband projects a hi-def hologram of each one. It recommends No. 2, a poetry-loving master plumber with a smoky gaze. Yes, you say, and the AI goes off to meet the man's avatar to decide on a restaurant and time for your real-life meeting. Perhaps your AI will also mention what kind of flowers you like, for future reference. After years of experience, you've found that your AI is actually better at choosing men than you. It predicted you'd be happier if you divorced your husband, which turned out to be true. Once you made the decision to leave him, your AI negotiated with your soon-to-be ex-husband's AI, wrote the divorce settlement, then "toured" a dozen apartments on the cloud before finding the right one for you to begin your single life.
---
Quote for the day:
"Many people think great entrepreneurs take risks. Great entrepreneurs mitigate risks." -- Jal Tucher
---