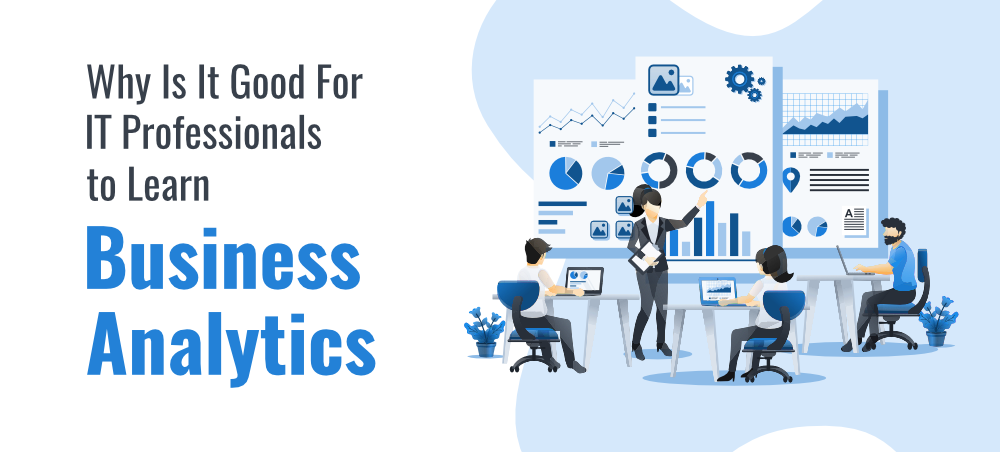 Most IT professionals who want to broaden their horizons go for business analytics courses. It gives a boost to their career and opens up more job opportunities. It is because IT professionals are well versed with software development and they can link business challenges and provide technical solutions. The main task of a business analyst is to gather and analyze data and sort them according to the requirements of the business. Among other people who take up a job as a business analyst, IT professionals can solve problems, identify risks, and manage technology-related restrictions more efficiently. Therefore, learning business analytics can open more doors for IT professionals. Business Analytics requires hard skills along with soft skills. Business analysts must know how to analyze data trends and convey the information to others and help them apply it on the business side. A person with a strong IT background who understands the system, product, and tools work can learn business analytics to boost their career and enjoy the hybrid role.

Rather than begin with a set of strict guidelines that launch across the entire organization at once, they should start with a framework applied to a certain data set that will be used by a specific department for a specific analytics project and then build out from there, according to Matt Sullivant, principal product manager at Alation. "As you're establishing your framework and trying to figure out what you want from the data governance, you have milestones along the way," he said. "You start off small with a small set of data and a small set of policies and then eventually you mature out to more robust processes and tackle additional data domains." Sullivant added that by starting small, there's a better chance of success, and by showing success on a small scale there's a better chance of both organizational leaders and potential end users of data seeing the value of a data governance framework. "A lot of quick wins show the value of a data governance program, and then you can expand from there," he said.
Low-code offers the promise of rapid app creation on a massive scale but can easily become de-prioritised due to lack of understanding, internal capacity, or a skills gap within the team. This can often mean that objectives are either not aligned or are being missed, stifling return on investment. Just like any IT project, it's crucial to take a step back before you begin building applications. Review your current systems and processes first, document any strengths and weaknesses, and define what success looks like to your business. These measures will ensure you know which areas require extra attention and resources, while providing clarity around application outcomes. ... The simple 'drag and drop' mindset that is associated with low-code tools means there is a temptation to jump into the build without first scoping the business requirements. This largely depends on asking the right questions. However, many organisations struggle to apply this clear thinking when developing apps. A step-by-step approach can help ensure positive outcomes. Think about who will be involved; what you would like to achieve; how you will get there; the barriers; and, the measurement of success.
The suspected hackers are alleged to have had various roles in organized criminal organizations. They are believed responsible for dealing with initial access to networks, using multiple mechanisms to compromise IT networks, including brute force attacks, SQL injections, stolen credentials and phishing emails with malicious attachments. "Once on the network, some of these cyber actors would focus on moving laterally, deploying malware such as Trickbot, or post-exploitation frameworks such as Cobalt Strike or PowerShell Empire, to stay undetected and gain further access," Europol states. In addition, it is claimed that the criminals would lay undetected in the compromised system for months, looking for further weaknesses in the network before monetising the infection by deploying a ransomware, such as LockerGoga, MegaCortex and Dharma ransomware, among others. "The effects of the ransomware attacks were devastating as the criminals had had the time to explore the IT networks undetected. ..." Europol notes.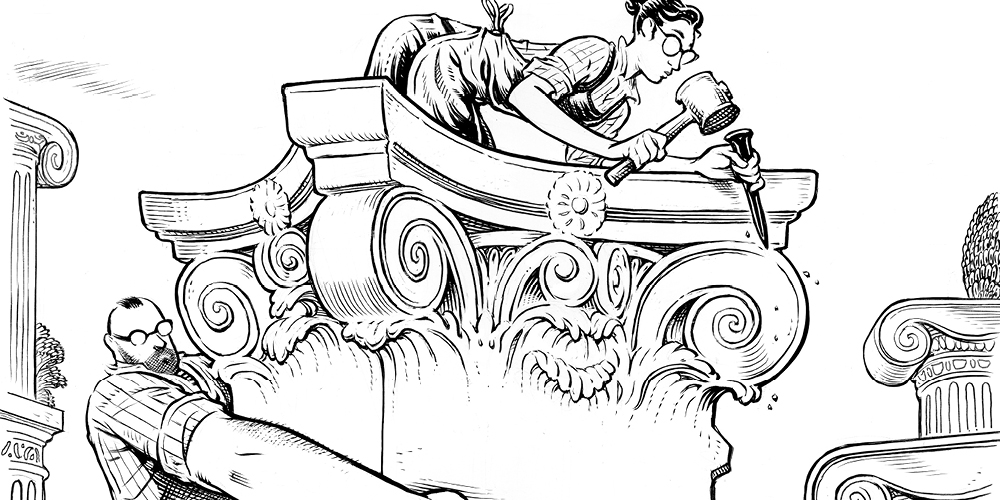 Deals don't always produce value. PwC research has shown that 53% of all acquisitions underperformed their industry peers in terms of TSR. And as PwC's 2019 report "Creating value beyond the deal" shows, the deals that deliver value don't happen by accident. Success often includes a strong strategic fit, coupled with a clear plan for how that value will be realized. Armed with that knowledge, we set out to better understand the relationship between strategic fit and deal success. ... When we analyzed deal success versus stated strategic fit, we found that the stated strategic intent had little or no impact on value creation, with the logical exception of capability access deals. Whether a deal fits depends minimally on its aim. What matters is whether there is a capabilities fit between the buyer and the target. Indeed, there was little variance among the remaining four types of deals—product or category adjacency, geographic adjacency, consolidation, and diversification—which on average performed either neutrally or negatively from a value-generation perspective compared with the market.
There is no silver bullet here and the best practices definitely apply. On a high level, I would say ensure the people in your organization are aware and are trained in their security awareness. I mention this first because it's all about people. These same people work with brands and systems that need to be protected. The most common used attack route is still email and this expands to other communication channels and platforms. It seems obvious to start protecting these channels. Getting back to awareness, this is not just about people, it's also about being aware of (unauthorized) usage of your organizations brand and to have protection and remediation measures in place when that brand gets abused in an impersonation attack. This might sound overwhelming, and in a way, it is. Similar to security, the work on brand impersonation protection is never entirely done. Can it be simplified? Well yes. Make a risk assessment and start with the first steps that deliver the best ROI on protection. In my view, security is a journey, even when it's in a close to perfect state in any given moment.
The purpose of the 90-day plan isn't to have everything sorted out on Day 1, but rather to provide guidelines and milestones for you to achieve. For example, you might set a 30-day goal to meet with all the senior leaders in the organization. The specifics can be hammered out after you've had time to assess who the key leaders are and how to connect with them. Your second 30 days (30-60 days) might entail getting to know the mid-level leaders or spending more time with your second-in-command in the IT division. The plan will guide you; the details will evolve as your 90 days elapse. ... The first 90 days are when initial impressions and expectations are created. Set the agenda in a dynamic and intelligent manner so you are seen as an active, engaged, and competent leader from Day 1. If you come out of the gate slowly or ineffectively – or worse, if you stumble badly, you'll struggle to overcome that reputation. If you come out too aggressively, on the other hand, your peers will be wary and you'll struggle to build trust. Either extreme will negatively impact your success trajectory.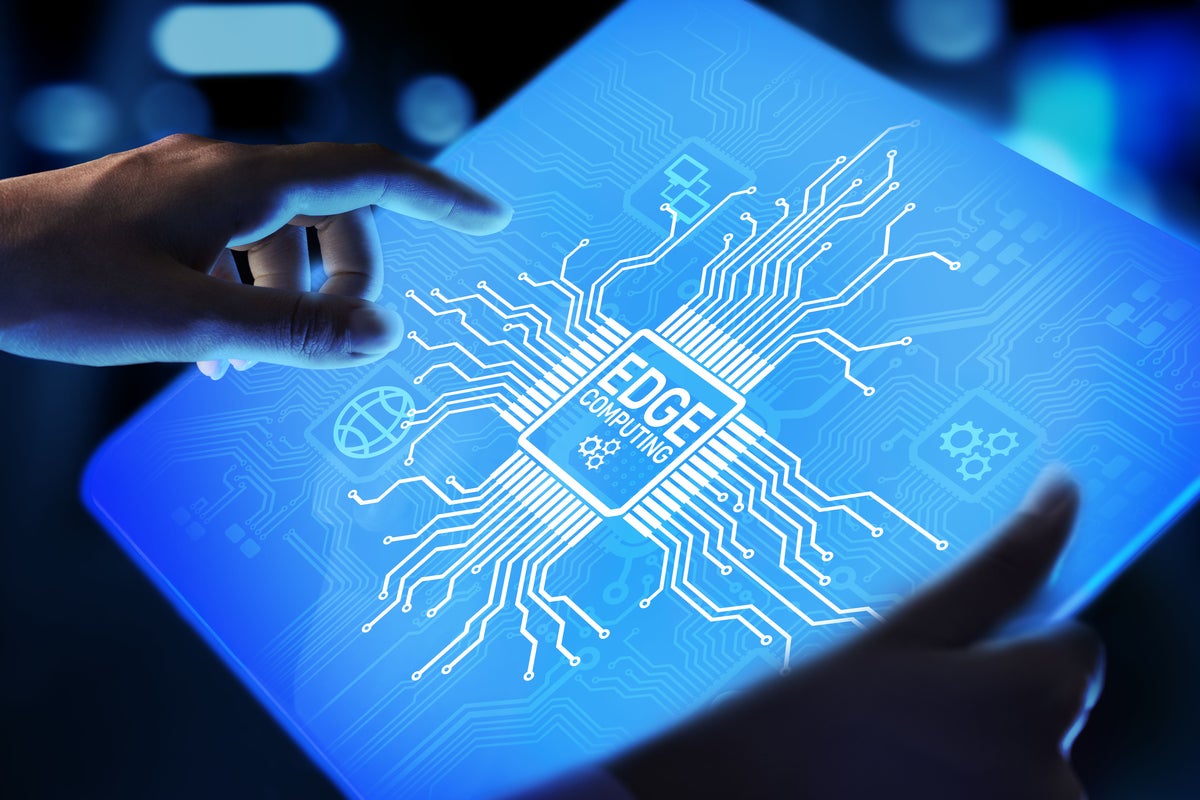 For organizations with significant IoT deployments, edge computing has emerged as an effective way to process sensor data closest to where it is created. Edge computing reduces the latency associated with moving data from a remote location to a centralized data center or to the cloud for analysis, slashes WAN bandwidth costs, and addresses security, data-privacy, and data-autonomy issues. On a more strategic level, edge computing fits into a private-cloud/public-cloud/multi-cloud architecture designed to enable new digital business opportunities. One big challenge of edge computing is figuring out what to do with all the different kinds of data being generated there. Some of the data is simply not relevant or important (temperature readings on a motor that is not overheating). Other data can be handled at the edge; this type of intermediate processing would be specific to that node and would be of a more pressing nature. The cloud is where organizations would apply AI and machine learning to large data sets in order to spot trends ... The fulcrum that balances the weight of raw data generated by OT-based sensors, actuators, and controllers with the IT requirement that only essential data be transmitted to the cloud is the edge gateway.
What we are witnessing now is the need to re-consider how end-to-end design is changing the best way to merge the ready-made services in the cloud from a hyperscale or SaaS provider with the telecoms world, while providing connectivity in a secure manner. How does this manifest itself during a transformation within an organisation, and, importantly, how can a business align its strategy to its implementation? The answer lies in having concise messaging built upon a clear strategy. ... With all of this in mind, non-functional designs as well as the functional elements are still crucial and cannot simply be left to the cloud provider, which is still what many businesses believe. Resilience of a service and recovery actions in the event of a failure need deep thought and consideration. Ideally these should be automated via robotic process automation, but for this to be a success, instrumentation of a service and event correlation are needed to truly determine where in the service chain an error has occurred.
Monolith systems have the edge when it comes to simplicity. If the development process can somehow avoid turning it into a big ball of mud and if a monolith system (as defined above) can be broken into sub-systems such that each of these sub-systems is a complete unit in itself, and if these subsystems can be developed in a microservices style, we can get best of both worlds. This sub-system is nothing but a "Coarse-Grained Service", a self-contained unit of the system. A coarse-grained service can be a single point of failure. By definition, it consists of significant sub-parts of a system and so its failure is highly undesirable. If a part of this coarse-grained service fails (which otherwise would have been a fine-grained service itself), it should take the necessary steps to mask the failure, recover from it and report it. However, the trouble begins when this coarse-grained service fails as a whole. Still, it is not the deal-breaker and if the right mechanism is in place for high availability (containerized, multi-zone, multi-region, stateless), there will be very bleak chances for it.
---
Quote for the day:
"No man can stand on top because he is put there." -- H. H. Vreeland
---