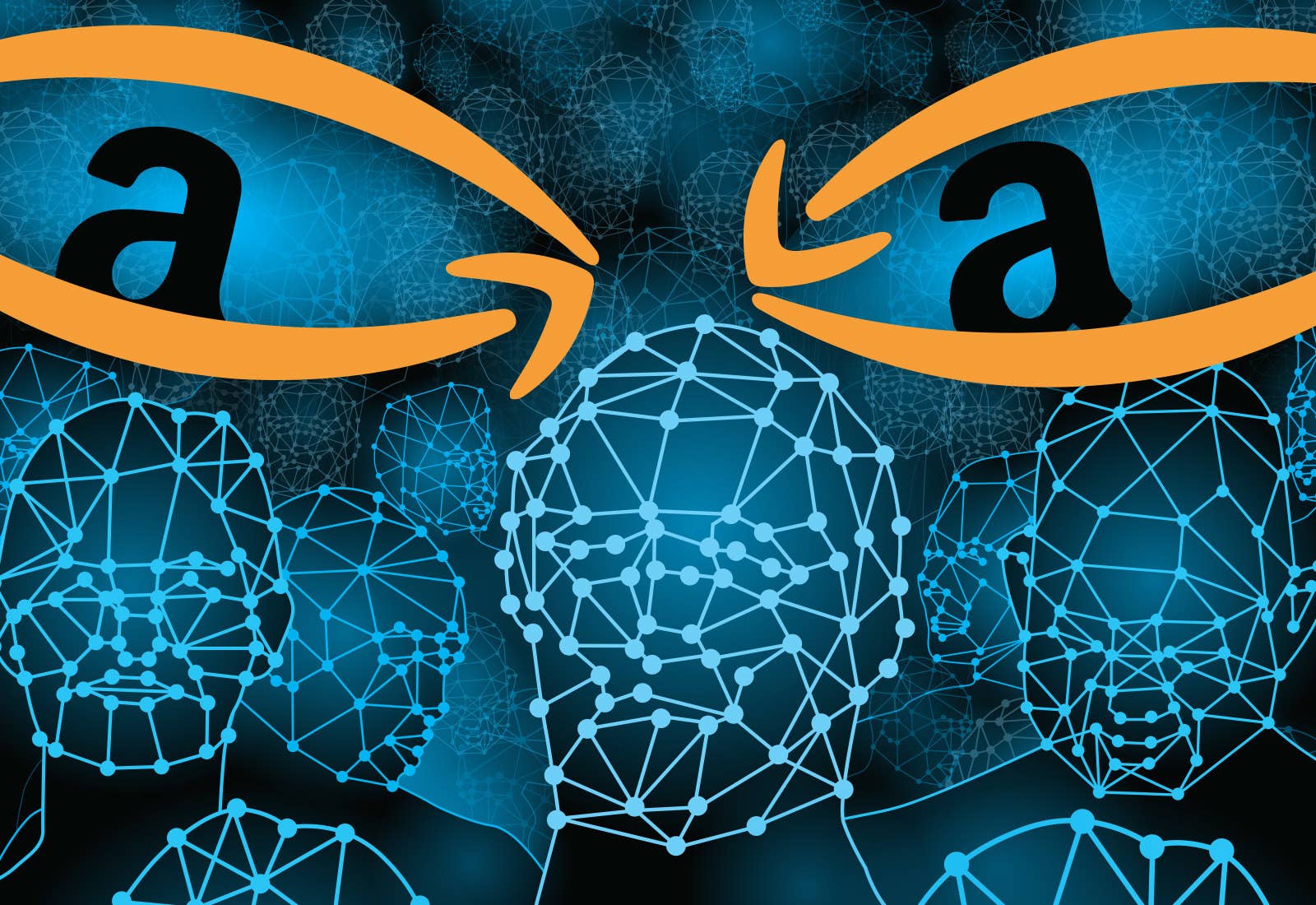 "Before integrating any new technologies into American life, we must be absolutely sure that those innovations are imbued with our values," Democratic Sen. Edward Markey, who sent a letter to Amazon CEO Jeff Bezos expressing his concern about the company's facial recognition services, told BuzzFeed News. "I am not convinced Rekognition passes that test." By contrast, decision-makers from Orlando seem prepared to go full steam ahead with tests of Amazon's technology, though emails between city officials and Amazon reveal there were setbacks. Sgt. Eduardo Bernal, a public information officer for the city's police department, told BuzzFeed News that Amazon provided no hands-on training on Rekognition, just standard documentation. Test results were flawed. There were miscommunications, including an embarrassing misstep that required an apology from Amazon — to the public and to Orlando PD.
"Our clinical work on the glucose-sensing lens demonstrated that there was insufficient consistency in our measurements of the correlation between tear glucose and blood glucose concentrations to support the requirements of a medical device," the company said. Verily made a big splash when if first launched the program in 2014, while it was still known as Google Life Sciences. The company partnered with Alcon, Novartis' eye-care division, on the project. However, it's been quiet about the project in the past few years, leading to speculation that it was winding down. Verily said it did have some success with the experiment in a controlled environment, but not in actual tests because of the dynamic environment of the eye. It's a problem that goes beyond Verily. Billions of dollars have been spent on research and development, but companies across both technology and life sciences have struggled. There's even a book dedicated to documenting these failures titled "the pursuit of noninvasive glucose: hunting the deceitful turkey."
The primary emphasis in ransomware preparation, other than user education and perimeter defense, is backups. In response to ransomware, IT needs to protect all data more frequently including file servers and endpoints. To some extent, backing up all data is data protection 101, but in our experience, most organizations, except for critical applications, back up most of their data once per night. Ransomware makes once per night backups obsolete. While the public announcement of ransomware attacks may be down, the "creativity" of these attacks is on the rise. According to Proofpoint, the number of ransomware variants is up 30X. The variations make it harder for perimeter defense solutions to detect them. Some of the variants specifically attack components of the data protection process like protected data stores and backup configuration files. Also, some malware strains now sit idle, instead of immediately executing their encryption attack. This ensures that the malware file is backed up repeatedly by the data protection process.
While most industrial companies have come to terms with the need to make more strategic use of technology,1 they are often unsure of how to proceed or are focused on the wrong initiatives, resulting in halting action and a failure to build significant value. On the other hand, those companies that move quickly and decisively to transform their go-to-market channels, models, and culture through technology should be able to unlock substantial value: top quartile B2B players generate 3.5 percent more revenue and are 15 percent more profitable than the rest of the B2B field. Our detailed analysis has identified a pool of $74 billion to $298 billion in revenue growth that could be tapped through enabling technology in sales (Exhibit 2). The value comes primarily through new customer experiences, refined pricing, and enhanced selling processes. ... Our experience in working with dozens of industrial companies has helped to identify where the main source of value is across the four main steps of the selling process: the presales stage, the sales process, the transaction itself, and IoT-enabled selling
It's the push-pull syndrome. FinTech apps push a lot of information to me because they're intelligent; big bank apps force me to pull the information because they're dumb. FinTech apps can predict and present my financial lifestyle to me intelligently; big bank apps show me what I've spent in a traditional debit and credit ledger that has no insight at all. Or that's my experience of two of the most frequently used big bank apps. They're pretty dumb. Meantime, my experience of some of the most popular FinTech apps is the opposite. ... Top of the fintechs is established payments unicorn TransferWise, with just 0.5 per cent of the visitor share in the most recent week. Revolut, which recently announced it had signed up 1 million UK users, has just 0.3 percent of the market share, while Starling Bank has 0.2 per cent. Traditional banks even dominate the new downloads list, though Starling manages to sneak into the top 10, with 4.6 per cent of downloads in the most recent week.
Wearable devices and how HIPAA regulations potentially apply is a very difficult issue, Spencer said. "There is a lot of ambiguity about exactly where HIPAA is triggered and where it's not," she stated. "The only real clarity is where a company that offers a wearable, or a mobile app that collects health information, where that arrangement is just directly between the device maker and the individual. Or it's between the app maker and the individual, and there's no covered entity or business associate involved. Then there's no application of HIPAA, that's clear." HIPAA regulations only apply to covered entities and business associates, Spencer reiterated. This includes health plans, healthcare clearinghouses and certain healthcare providers that engage in certain payment and other financial transactions. Business associates are those organizations that specifically have access to health information to provide a service or perform a function on behalf of a covered entity, she noted.
So, it's no longer just Hadoop. Cloudera Chief Executive, Tom Reilly, admitted as much, in his comments after the merger: "Hadoop has evolved so drastically that we don't even mention it anymore." This analysis provides an overview of the different options available to enterprises instead of using Hadoop. And you have to wonder, if this trend continues, what the future will be for the technology. As the author writes, "The center of gravity has moved elsewhere." What this development represents is how big data is now becoming just data. Every organization, large and small, now has access to an unparalleled quantity and quality (and more current/real-time) data than at any time in history. They have more technological options to build services using this data — and this is important because different use cases (using different types of data) mean it's possible to choose the right technology for what you need. For example, there are numerous open-source options, as well as proprietary machine learning platforms. Many of these make the 10-year-old Hadoop technology look dated.
The settlement comes a week after the agency notched another "first," setting charges that a crypto firm called EtherDelta was operating as an unregistered exchange. The cases underscore the SEC's insistence that the relatively new digital financial products must follow traditional securities rules. "We have made it clear that companies that issue securities through ICOs are required to comply with existing statutes and rules governing the registration of securities," Stephanie Avakian, the SEC's co-director of enforcement, said in a statement. "These cases tell those who are considering taking similar actions that we continue to be on the lookout for violations of the federal securities laws with respect to digital assets." On Thursday, federal prosecutors in New York announced a guilty plea by a man who defrauded investors with two cryptocurrencies he founded during the initial coin offering boom.
The rising trend of acquisition could be the result of simple, sudden opportunity. Of the Bitstamp acquisition, CEO Nejc Kodrič, said that "the sale wasn't planned. There was no active effort to go around and solicit buyers. The vibrant industry last year sparked potential interest from buyers to make a footprint in the industry. We started to get approached by buyers in the middle of last year." Indeed, acquisition is a swift, simple way for a company's owners to profit while maintaining some control over the company's operations. Kodrič still holds a 10 percent stake in the company; Damian Merlak, his co-founder, sold all of his 30 percent stake. Generally speaking, "the benefits of [acqisition] include receiving valuable intellectual property and the talented employees of the acquired company – those are precious resources that can help companies grow quickly. Communities and a new user-base are also precious resources the acquirer gets after the deal," explained Ruslan Gavrilyuk Co-Founder, President of Kepler Finance.
Apache Spark provides a web-ui and REST API for metrics. Spark also provides a variety of sinks including Consoles, JMX, Servlet, Graphite etc. There are few other open source performance monitoring tools available like dr-elephant, sparklint, prometheus, etc. Metrics provided by these tools are mostly server level metrics, and few of them also provide information of running applications. Uber JVM Profiler collects both server level and application code metrics. This profiler can collect all metrics (cpu, memory, buffer-pool etc) from the driver, executor or any JVM. It can instrument existing code without modifying it, so it can collect metrics about methods, arguments and execution time. For storing metrics for timeseries analysis, we will use InfluxDB, which is a powerful timeseries database. We will extend Uber JVM Profiler and add a new reporter for InfluxDB so metrics data can be stored using HTTP API. For the dashboard of graphs and charts we will use Grafana, which will query the InfluxDB for metrics data.
---
Quote for the day:
"We get our power from the people we lead, not from our stars and our bars." -- J. Stanford
---