"Process mining is an easy idea," said Rinke. "But it is hard to make it work right for organizations. You need to collect large amounts of data from all sorts of IT systems. You also need to go beyond integrations and must understand the databases that are underneath. And all are customized." No doubt, a key driver for Celonis has been the rapid growth of RPA (Robotic Process Automation). "In RPA, you'll often get to the first low-hanging opportunities by asking people what routines take up most of their time," said Antti Karjalainen, who is the CEO of Robocorp. "As companies progress in their automation journey, data-driven technologies become an important part of identifying opportunities. People might not even realize how their own work is related to work done in other areas of the company and process discovery technologies can uncover these hidden workflows." But the Celonis software is not just for upfront analytics. It is something that is useful for ongoing monitoring to make sure that an RPA implementation is on track.
You should build the systems around the Processes, not the Organizations. That way, you could change the systems all you want and it wouldn't affect the Organizations ... or, you could change the Organizations all you want and it wouldn't affect the systems. That is, there is a "many-to-many" relationship between Process and Organization. (Any one Process may be performed by many Organizations and any one Organization may perform many Processes. Organization and Process are independent variables. Orthogonal.) Apparently this Process to Organization independence is still not very well understood. Within the last two or three years, I heard Steve Towers a notable figure in the Process Management community speaking at a Conference in Bangalore India emphasizing a strong point, "The Process TRANSCENDS the organization!" That is, a Process may have many Organizations involved and conversely, an Organization may be involved in many Processes. That is, once again, there is a many-to-many relationship between Processes and Organizations ... or, they are "independent variables." Dewey had figured that out sometime before I found him in 1970.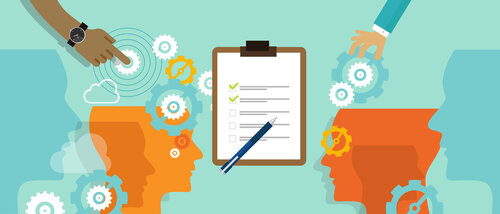 This means that scaling is on an ascending trend, probably because the CEOs have started to realise the benefits of enterprise-wide deployment. There can be no denial that the KPIs make a significant contribution to this trend. If this is so, it is legitimate to wonder about ways of optimally setting the KPIs for your RPA deployment. The question is related to the subject of choosing appropriate metrics for a comprehensive assessment of ROI, beyond the financial impact of leveraging RPA in your company. In fact, the need to track various kinds of benefits, some of which are plain to observe and easy to calculate (the reduced costs of implementation, etc.) is a precondition of obtaining accurate estimates of the ROI made possible by automation. Setting your robotic process automation KPIs can thus be seen as a road opener for measuring ROI, which is itself a business metric.
All these other competencies that come into play if your business change initiative is to be successful. This second aspect triggered an interesting thought in our minds, which is that an enterprise architecture initiative's success depends on more than how capable the EA management suite is. Sure, that's the most visible variable, but it too exists within a landscape of factors, each of which contribute significantly towards the desired outcome. Just think of your vehicle. It may seem like all it needs to run is gasoline but try and drive your family's car around without changing the coolant, engine oil, or the windshield washer fluid and you're probably not going to get very far. Therefore, should you find yourself in a situation to procure an EA tool for your organization in the future, remember that while having a mature and competent EA platform is vital, there are other aspects which you should not ignore lest you place a very low ceiling on your transformation initiative. These are the extras that a great EA tool comes with.
Businesses are deploying RPA to efficiently manage large-scale processing in ways that are customizable throughout each individual business. RPA is currently being used across almost all industries and functions, including IT, finance and accounting, human resources and customer service. RPA can be leveraged for an array of tasks – whether it is auto-populating forms or spreadsheets, organizing incoming information or processing transactions. What's "new" about RPA is that benefits are generated for employees and businesses alike. For example, State Auto, a super-regional insurance holding company headquartered in Columbus, Ohio, uses RPA for back-office tasks. Auditors at State Auto go through thousands of policies to determine recommendations for changing rates. Policies that don't need to be audited still have to be documented, which requires performing routine data-entry with two separate and unconnected systems, selecting codes and making drop-down selections. With robots in place, this activity happens rapidly and error-free, releasing individuals from time-consuming, and mind-numbing, tasks.
After Windows 10's release in 2015, the most notable of all PatchGuard bypass was GhostHook, discovered by CyberArk researchers in 2017. GhostHook abused the Intel Processor Trace (PT) feature to bypass PatchGuard and patch the kernel. A second bypass was discovered and disclosed over the summer, in July. Found by Nick Peterson, anti-cheat expert at Riot Games, this bypass was named InfinityHook, and abused the NtTraceEvent API to patch the kernel. Describing the bypass at the time, Peterson said "InfinityHook stands to be one of the best tools in the rootkit arsenal over the last decade." Last month, a third PatchGuard bypass was disclosed; this time by Turkish software developer Can Bölük. Named ByePg, this exploit hijacks the HalPrivateDispatchTable to allow a rogue app to patch the kernel. Just like Peterson, when describing ByePg, Bölük used said that the "weaponization potential of [ByePg] is only limited by your creativity."
When performing market analysis and defining the journeys, an important step is to prioritize things accordingly. First step of prioritization is to define the customer personas or segments, that are of value or interest for the business. These may be the key target audience for the product or service, or they may be the most challenging segments (e.g. people likely to churn), so a business initiative can be focused on smoothing the experience for these people and reducing the likelihood of unwanted events. When the key personas or customer segments are defined, the journeys can be prioritized next. The same user can have multiple potential journeys that interact with the business. They can come from a targeted acquisition campaign or discover the service organically. They may have a positive or negative previous experience with this type of services, etc.. Just like it is important to prioritize the customer types, it is important to prioritize the journeys for those customers. Once those decisions are made, it is clear which customer journey the business is working with. This is when an enterprise architecture bit can be added into the picture.
Eliot Bendinelli, a technologist with UK non-profit Privacy International, says the organization wanted data protection agencies to take action because it believed there was a fundamental problem with the tracking industry. Its project began with an investigation into sales in the field of ad tech companies, credit rating agencies, ad blockers, and related organizations, he says. "We were building a case, and basically we think what they're doing is unlawful," Bendinelli continues. While waiting for agencies to act, the research team wanted to find an example of how tracking is taking place on Web pages where people go to read and share sensitive data. "We wanted a concrete example of how tracking is happening on websites where you think you are safe, and where you are looking up or exchanging data that is sensitive and personal," he adds. They chose sites related to mental health because, as Bendinelli puts it, people may research mental health conditions online because they aren't yet ready to discuss it in person.
RPA expects program, system, and even network heterogeneity. RPA evolved to eliminate gaps in workflows or processes that span disparate GUI-based systems. A history lesson might be helpful here. In the 1990s, packaged software suites emerged to displace fit-for-purpose GUI and text-based applications. An insurance company might once have depended on a mix of custom-built and commercial systems to support key processes such as enrollment, billing, claim filing, and claim adjustment; by the late-1990s, however, packaged applications were able to replicate many (if not most) of the features and functions these systems provided. But not all of them. More important, some subset of function-specific systems just couldn't be replaced. The upshot was that even as enterprises restructured their business processes to accommodate packaged suites, they kept some of these processes (and their supporting IT systems) intact, too. The neat thing about RPA is that its software bots run alongside the GUI-based program(s) on the existing system
Creating a fully-functional, efficient target cloud architecture (complete with any necessary intermediary states) that accounts for the organization's level of cloud maturity. Developing a coherent, model-based plan for transitioning from the existing systems to a cloud-focused future state is invaluable. Since cloud technology precipitates a decline in the number of both software and hardware components, it produces a change in how the IT stack works, how it's serviced. It also triggers additional changes on the staff side – the roles that are needed, how they interact with each other now, or if there are any redundancies. Ultimately, you need to develop a new picture of how people, processes, technology and capabilities function in the new cloud paradigm. What better way to get everyone informed, engaged, and feeling in control than by providing them with clear EA deliverables that explain how things are evolving going forward? Enterprise architects have an opportunity here to deliver immense value to a wide array of stakeholders.
---
Quote for the day:
"Being honest and open is the only way to convince cynical employees that you truly want to establish a partnership with them." -- Florence M. Stone
---